Tom Hollander: 'The most exciting thing for me about Rev is the cast'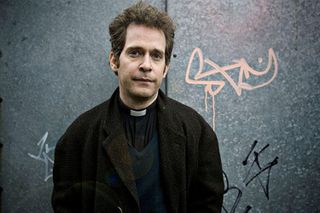 Award-winning BBC2 sitcom Rev is back on Monday, March 24 and we caught up with Tom Hollander - who plays the long-suffering vicar of a Hackney church - to talk about working with babies, people shouting 'Rev!' at him in the street and whether the new Archbishop of Canterbury likes the show.
Is it good to be back?
"Yes it was a lot of fun. We started writing and talking about what story we were going to do in September 2012 so that preparation period's quite long. But before that we'd been doing nothing else but Rev for a couple of years so we just wanted to do some other things and get inspired again and also make sure we cared about it as much as before!"
A lot's changed for Adam and Alex (Olivia Colman) as well...
"They have a baby Katie and she's been promoted!"
Is he a hands-on dad? Does he do the nappies?
"Yeah he does. He has the baby in the vestry which irritates Nigel, but moments of beauty when he shows the baby the stained glass window and the light falls on her face makes the drudgery of pushing her around in the pram in the rain worthwhile."
What was it like working with the baby?
"We used twins actually and they were a delight eventually. They were pretty frightened of me! I don't have children myself and I'm not very confident with them and it got to the point where they would see me and start screaming. But with the miracle of editing, she is very cute and makes a significant contribution to the scenes that she's in by looking very strangely wise in the way babies do."
Has warm-hearted alcoholic Colin been doing any babysitting?
"Colin wants to babysit. He wants to be a godparent. Vicars' babies become the property of the parish so it belongs to everyone, in the same way that the vicarage belongs to everyone."
Joanna Scanlan and Vicki Pepperdine are returning this series - they want to close the church don't they?
"Yes they do a bit. Adam's slightly chippy with them. He doesn't want to have to kowtow to them, but he has to if he wants the church to survive. Joanna Scanlan is an amazing woman. We've done several things together, she's immensely gifted. She's absolutely hilarious in this and Vicki is also superb. The most exciting thing for me about the show is the cast. This season I just thought how amazing it was when our regulars all turned up - they're just brilliant in their parts and we're really lucky. We could never have expected the cast to be so brilliant."
Did you ever expect Rev to keep running for three series?
"It wasn't the intention. I was always quite keen to see how it went, but people were very enthusiastic. It took off in a way we couldn't have expected. I've been acting for a long time and the moments where you do something which people really connect to are rare. But with that came the burden of how are we going to do it again and again? All of that took a bit of time to get together. But I'm proud of it."
A lots happened with the Church of England since you've been away...
"And that's been hard. It's hard to stay topical and up to the minute. Women, the Archbishop of Canterbury, the gay ruling... we touch on all of those areas, but the main story in the third series is what happens to Adam and Alex and the others."
Rowan Williams was a massive fan. Do you know if new Archbishop Justin Welby is?
"Don't know. We haven't been on since he's been Archbishop..."
Does Ralph Fiennes come back this series?
"Yes, he comes back as Bishop of London... the other old friend in it is Hugh Bonneville. The casting process is interesting - it's funny being on the other side of it. It means that now when I'm auditioning I think I've got an idea of what they're looking for! It's pretty embarrassing being an actor holding auditions because you're so aware of what it's like auditioning."
What was it like writing an episode on your own for the first time?
"That was exciting. I was very nervous, but having done it and it having worked, it feels like a wonderful thing. It's been the gift of the third series to me has been that new experience of writing stuff and our cast saying the lines I've written. Although acting my own scenes I'd written was hard, I found it embarrassing, I kept thinking 'Who's written this nonsense?'"
Do people still shout Rev at you in the street?
"When it's on you get it and then it fades away again. It's not too overwhelming. The first time it happened was when I did Ab Fab in the 90s and for a few days after an episode of that it was bizarre. I played Saffy's boyfriend and girls would go 'Oh there he is!' and run away. It was awful. But this isn't like being Johnny Depp where you can't walk down any street in the world without being mobbed."
How long do you see Rev running for?
"This is it. I'll never say never and it's not killed off forever, but for the time being we've told the story of Adam and Alex and the people who live in the parish and we don't want to overdo it."
Get the What to Watch Newsletter
The latest updates, reviews and unmissable series to watch and more!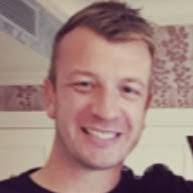 Feature writer for TV Times, What's On TV, TV & Satellite Week and whattowatch.com
Sean has been writing about all things telly for over 10 years and in that time he's been lucky enough to interview stars like Ian McKellen, Tom Hardy and Kate Winslet. His favourite shows are The Great British Bake-Off, People Just Do Nothing and Succession and in his spare time he enjoys drinking tea, doing crosswords and watching football.