Tom Rosenthal booted off Bear Grylls: Mission Survive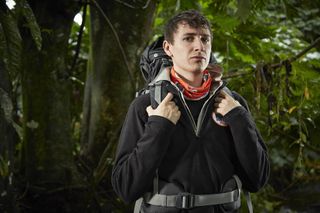 (Image credit: betty / Mark Johnson)
Friday Night Dinner star Tom Rosenthal has been booted off ITV's Bear Grylls: Mission Survive.
On Friday, it was the penultimate episode of the series which follows a team of celebrities trekking through a Central American rainforest, where they will be pushed to the limit with different tasks. The series started with eight stars, but following the booting off of Max George, Jamelia and Emilia and Laurence Fox, there were now four celebrities remaining – Tom, Mike Tindall, Dame Kelly Holmes and Vogue Williams.
The show saw the celebs tasked with finding themselves breakfast, but with all of their remaining rations confiscated, they had to rely on nature's bounty for sustenance.
On their way to their camp for the night, Tom and co faced a 25 foot leap into murky water before taking shelter from an almighty storm. The next day proved more challenging because after feeding on a meal of worms and crickets for breakfast, the embattled celebs had to cross a 200ft deep ravine on a rope.
As if that wasn't enough, the plucky four were given one last challenge – to build a fire with bamboo poles so they could cook an egg.
It was then over to Bear to make a decision as to who would get their marching orders and who would make next week's final.
After Bear ticked off Tom for losing gear and criticised his fire-building skills, he said: "I have made my decision and this is a tough one but I only want the best with me. This is Mission Survive and Tom, I don't think you would survive."
The final will be shown next Friday on ITV at 9.00pm.
Get the latest updates, reviews and unmissable series to watch and more!
Thank you for signing up to Whattowatch. You will receive a verification email shortly.
There was a problem. Please refresh the page and try again.