What's on telly tonight? Our pick of the best shows on Wednesday 19th September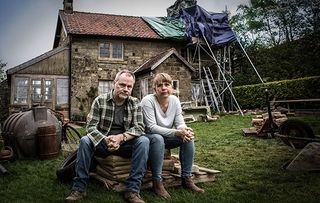 (Image credit: Open Mike Productions / ITV)
What's on telly tonight? Here the TV Times team of expert reviewers highlight the best shows on Wednesday 19th September
What's on telly tonight? Here the TV Times team of expert reviewers highlight the best shows on Wednesday 19th September
Bad Move, 8pm, ITV
Following its hugely popular first outing last year, comic Jack Dee returns this week with a second series of this sitcom. As the six-part comedy begins, it seems the grass still isn't any greener for husband and wife country-dwellers Steve (Jack) and Nicky (played by Derek's Kerry Godliman), who continue to face an uphill struggle in their quest to create their dream home. Desperate to find someone to fix their broken roof, it seems Steve and Nicky have had their prayers answered when they come across a builder called Honest John. But as the couple discover, honesty isn't always the best policy… Rating: ****
Joanna Lumley's Silk Road Adventure, 9pm, ITV
The cultures and traditions of Georgia and Azerbaijan come under Joanna's spotlight in the second leg of her journey. After exploring how the Georgian capital Tbilisi has shed its Soviet past, she stays on a remote mountain farm with an elderly couple who are self-sufficient, before falling head over heels in love with a colony of busy silkworms who could help revive the country's silk industry! In Azerbaijan, she tries the local craft of printing on silk, and visits the incredible skyscrapers in the capital, Baku, where she gamely tries to ignore her fear of heights. Rating ****
Grand Designs, 9pm,
Presenter Kevin McCloud is feeling cynical as this latest series kicks off with an ambitious build in Buckinghamshire. Young couple Jaime and Mimi spent £100,000 on a 250-year-old folly that used to house a gentleman's fossil collection. It's a total ruin, tiny and has no planning permission and the couple have one young child and another on the way – so you can understand why Kevin is a little bit negative! In some ways, he's right – the build pushes the family almost to breaking point. But Kevin also underestimates architect Jaime's unfailing optimism and determination to be king of his very own mini-castle. Rating: ****
More previews tomorrow.
Get the latest updates, reviews and unmissable series to watch and more!
Thank you for signing up to Whattowatch. You will receive a verification email shortly.
There was a problem. Please refresh the page and try again.