Olly Murs is transfixed by Jessica Rabbit lookalike Ivy Paige on The Voice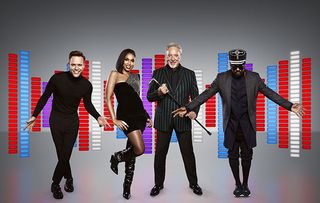 (Image credit: ITV)
It's week two of the popular singing competition, but it looks like we've already got some strong contenders for the winner's slot in the mix.
Will.i.am, Jennifer Hudson and Sir Tom Jones are back as coaches for this year's series, alongside new coach Olly Murs, who's admitted that he feels like the 'naughty school kid' of the bunch.
And tonight it looks like the spotlight will be on Olly once again, after he appears a little hot-under-the collar after the performance of 37-year-old Ivy Paige, a Burlesque and Cabaret performer from Kent.
Ivy performs Peggy Lee's 'Why Don't You Do Right' and Olly wastes no time in turning around for the singer. The judge later admits that things got flirtatious.
"She was like Jessica Rabbit", he said.
"I can't change who I am. There were attractive girls and I was flirting a little bit."
https://www.youtube.com/watch?v=AtChaRZoBog
Fellow coach Will.i.am joked, "If he had all boys on his team, I would be worried, but if there's a hot female singer, then she's going to fail because he'll be distracted!"
"I'm fine. Just because I'm cheeky and flirty, it doesn't mean I'm not doing my job," Olly insisted.
"There is obviously some attractive talent, but I have to be strictly professional as a coach.
"I've had a bit of a flirt or two on the show, but I can't change the way I am. If a woman comes on that I find attractive I might give her a compliment, but I would never be unprofessional and date a contestant. It's the Essex boy in me. You can't take it out!"
Performing alongside Ivy tonight is window cleaner Kade Smith who's been tipped to be a popular singer on the show. He sings Otis Redding's 'Sitting On The Dock Of The Bay'.
Tune in tonight to see how the judges react to the singers - and who's going through to the next round.
The Voice airs at 8pm on ITV.
Get the latest updates, reviews and unmissable series to watch and more!
Thank you for signing up to Whattowatch. You will receive a verification email shortly.
There was a problem. Please refresh the page and try again.