Torvill and Dean: 'There'll be no pulling the wool over our eyes on Dancing on Ice!"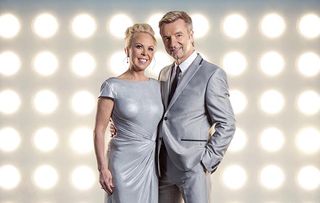 (Image credit: ITV)
After four years away, Dancing on Ice is back! With 12 brave celebrities ready to show off their skating skills, the show's new head judges, skating legends Torvill and Dean, give us some hints on what we can expect...
Skating legends Torvill and Dean on how they'll be getting tough as Dancing on Ice returns tonight on ITV at 6.00pm…
Dancing on Ice warmed up our winter evenings for nine series before it was axed in 2014. But now, after four years away, the ice is frozen solid once more, the sequins are sparkling and there are 12 brave celebrities ready to get their skates on as Dancing on Ice is back!
So what's new? Well, original presenters Phillip Schofield and Holly Willoughby return to hosting duties, and 'Mr Nasty' Jason Gardiner is back as a judge. But there's a new face on the 'ice panel': Diversity star Ashley Banjo. And the show's head judges this time are none other than Dancing on Ice stalwarts, ice-skating legends Jayne Torvill & Christopher Dean.
With a brand-new set at RAF Bovingdon in Hemel Hempstead, too, and seven new pro-skaters to partner the celebrities, the show is being brought bang up to date. "It's going to have a whole new visual look," says Chris. "But it's still going to be about moments of great skating, humour… and catastrophes! That's all part of Dancing on Ice."
And it seems Jayne, 60, and Chris, 59, can't wait to get started…
Hi Torvill and Dean. After being choreographers and coaches on the previous nine series of Dancing on Ice, you're now the show's head judges. What sort of judges will you be?
Chris: "In our previous role as mentors, it was about encouraging the skaters each week and being on their side. Now, we're there to be fair and impartial and give our opinion. We've done just about everything there is to do in skating, so there'll be no pulling the wool over our eyes. If somebody's doing the whole 'smoke and mirrors' thing and not really skating, we'll see through it." Jayne: "If one of the female celebs is being lifted the whole time, for example, that will tell us that she probably can't skate very well."
Diversity star Ashley Banjo is new to the 'ice panel'. What do you think he'll bring to the show?
Jayne: "Ashley will be great because he's so engaging and dance is his life. He eats, lives and breathes it; that's how Diversity got to where they did, through sheer hard work and effort. He'll bring a real freshness to the show."
What do you make of this year's skating stars?
Jayne: "It looks like a great line-up, though I have no idea who might be really good. Someone like Candice Brown is clearly competitive and disciplined because that's how she won Bake Off. I don't know how she'll be fitness-wise; skating takes a lot of effort and she will get very tired." Chris: "The celebs who get dubbed the 'entertainers' don't come on the show with the intent of being like that. Even the likes of Joe Pasquale and Todd Carty, from previous years, tried really hard and showed real commitment."
What's been your personal highlight over the previous nine series of Dancing on Ice? What tips would you give the Class of 2018?
Chris: "I think the level Ray Quinn got to for the 'Champion of Champions' final in 2014 was amazing. To see his progression and what he was able to do; he's a dancer but he just had a natural affinity to the ice. You'd put those skates on him and he was like: 'I've got this!' To do well on his show, you've got to have talent, perform well and have lots of determination. Ray is everything you could ask for in a champion."
Next year, you'll be hosting and judging on the Dancing on Ice UK tour. Are you looking forward to that?
Jayne: "Yes, but being hosts and judges will be tricky. We'll definitely be busy!" Chris: "With the stage show, Dancing on Ice fans really get to see the distance and the speed that the skaters travel. You feel the wind as they pass you and hear the skates grinding into the ice. While we don't know if we'll be performing on the TV show, the tour might be different. We haven't hung our skates up just yet!"
Dancing on Ice: Meet The Class of 2018
Name: Brooke Vincent, 25 Coronation St's Sophie Webster Skating partner: Matej Silecky Brooke says: "I've been trying to lose a few pounds to get in those leotards."
Name: Cheryl Baker, 63 Bucks Fizz singer Skating partner: Dan Whiston Cheryl says: "I am feeling nervous. Is it too late to say no?"
Name: Kem Cetinay, 21 Love Island star Skating partner: Alex Murphy Kem says: "Everyone knows how competitive I am. I can't wait to get my skates on."
Name: Candice Brown, 32 The Great British Bake Off 2016 winner Skating partner: Matt Evers Candice says: "My friends call me Bambi on Ice and that's just normal day to day!"
Name: Max Evans, 34 Scottish International rugby player Skating partner: Ale Izuierdo Max says: "We've all had a dance, which is familiar territory, but skating is so not..."
Name: Jake Quickenden, 29 Finalist on The X Factor 2012 Skating partner: Vanessa Bauer Jake says: "I'm terrified but I feel so lucky. It's my mum's favourite show!"
Name: Lemar Obika, 29 Singer (replacing injured cricketer Monty Panesar) Skating partner: Melody Le Moal Lemar says: "I thought it'd be a good opportunity to get a new skill under my belt"
Name: Alex Beresford, 37 Good Morning Britain's weatherman Skating partner: Brianne Delcourt Alex says: "I've wanted to do this show for ages. I'm really excited!"
Name: Donna Air, 38 TV presenter Skating partner: Mark Hanretty Donna says: "My daughter's like: 'Oh no, mum, you're going to be so embarrassing'."
Name: Perri Shakes-Drayton, 28 British track and field athlete Skating partner: Hamish Gaman Perri says: "I've been given an opportunity, so I'm going to give it my best shot."
Name: Antony Cotton, 42 Coronation Street's Sean Tully Skating partner: Brandee Malto Antony says: "I better get my skates on - I've got practising to do!"
Name: Stephanie Waring, 39 Hollyoaks' Cindy Cunningham Skating partner: Sylvain Longchambon Stephanie says: "Balancing is the hardest thing to do."
Dancing on Ice begins on Sunday January 7 at 6pm on ITV.
Get the latest updates, reviews and unmissable series to watch and more!
Thank you for signing up to Whattowatch. You will receive a verification email shortly.
There was a problem. Please refresh the page and try again.