'Tracey's been in and out of rehab all her life,' reveals Hollyoaks newcomer Lisa Maxwell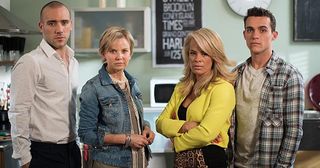 Grace is not happy when her mum, Tracey, turns up in Hollyoaks, struggling to keep their deep, dark secret, says Hollyoaks newcomer Lisa Maxwell
Tracey is mother to Grace and stepmum to the Donovan brothers in Hollyoaks – and she's going to turn their lives up-side down, Lisa Maxwell tells Soaplife.
What can you tell us about Tracey? "She's been in and out of rehab all her life and she's had several nervous breakdowns. She isn't in a good place. You can tell that from the way she looks. They've given me what's known as a 'make-under'. Tracey looks like a woman who's been through the mill."
Why does Grace dislike her so much? "She had Grace [Tamara Wall] and her sister Clare [Gemma Bissix] with Fraser Black [Jesse Birdsall]. He wasn't nice to Tracey and he turned her daughters against her. Tracey then married the father of the Donovan boys and she must have been a good mum at some point because they adore her. But there's something that happened which created a real issue between Grace and Tracey. It's a dark secret and only they know what it is."
How does Grace react when she sees Tracey? "She isn't pleased to see her and she tries to pay her off. She says: 'Don't think this is because I love you or care about you. I just want you to go.' And Tracey does go, but not for very long."
Would she like to bond with Grace? "I think so, but their relationship will never be straightforward because this secret they share is big and very dark. Tracey has an issue with living with that secret and Grace copes with it a bit better."
How long will Tracey be around for? "All I can say is I have a returning guest role and I'll be flitting in and out to create havoc. Tracey is a desperate character. The bailiffs are after her and she's about to lose the roof over her head and everything she owns. She'll do whatever she can to keep the wolves from the door."
Hollyoaks, Channel 4
Get the What to Watch Newsletter
The latest updates, reviews and unmissable series to watch and more!