Trainer Warren Greatrex: 'Having two runners in the Grand National is a dream come true'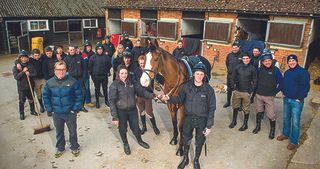 (Image credit: Alistair Heap)
TV Times (opens in new tab) discovers what it takes to get a horse to the Grand National start line as we meet the men and women behind veteran contender Tranquil Sea...
We asked trainer Warren Greatex (opens in new tab) what he thinks of outsider Tranquil Sea's chances...
"Not every horse can handle Aintree, but these older horses like Tranquil Sea tend to rise to the occasion and the big atmosphere. I remember as a young boy Aldaniti winning the 1981 Grand National and it's something I've followed every year since, so for me to have two runners in the race (Warren also saddles Dolatulo) is a dream come true"
Does it take a lot of people to take care of the horses?
"There's about 25 of us in the team, from assistant trainers to travelling lads and then obviously the bulk of the staff who look after the horses day in, day out."
Is Tranquil Sea a calm horse?
"He has a good character, but he is a bit grumpy. We change things about so he doesn't do the same thing every day. If a horse is happy in his mind, you'll get the best out of them and he's a very easy horse to train."
Is his jockey, Gavin Sheehan, looking forward to his first Grand National ride?
"My mother doesn't want me to ride in the Grand National, she's a little bit nervous. It's the pinnacle of the sport and every jockey wants to be in it. If he shows the spark he can then we're going in with a good chance"
What's your tactics for the first fence?
"Erm, just get over it!"
Simon Sparks, the farrier, explains that horses get through more shoes than the average toddler...

"We work on a three to four week shoeing cycle. There's a saying that an ounce off the foot is a pound off the saddle. If a horse is beaten by a nose in the race that could have been down to the shoe."
Racehorse training is an early morning endeavour. But what time does head lad Graham Baines get up in the mornings?
"My alarm goes off at 4.20 am. I get in to make sure all the horses are fed and looking healthy and well. In the morning we ride out the horses, then give them any medications they need and then lunch by 12.30."
Travelling head lad Guy Anstey is carrying a bizarre contraption over his shoulder when we meet...
"This is an equissage machine. It sits on their back for 20 minutes and gives them a massage."
What are your duties during race day?
"We have a camera in the horsebox so as we're travelling along I can actually see what they're doing. I oversee all the staff at the racecourse, making sure they all know what they're doing, that the jockey has the right colours and that they have whatever equipment the horse might need, like blinkers to aid their concentration."
Watch the Grand National (opens in new tab) live on Channel 4 this Saturday at 4.15pm
Get the latest updates, reviews and unmissable series to watch and more!
Thank you for signing up to Whattowatch. You will receive a verification email shortly.
There was a problem. Please refresh the page and try again.