TV Times' 7 new shocking stories for Happy Valley 2017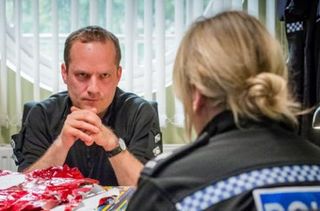 Here at TV Times we love Happy Valley and, like millions of other fans, we're sad to see the 2016 run end, and are now desperate for a third series.
The show's creator-writer-director Sally Wainwright has told us, "We've certainly not been given a green light yet but I've always got lots of ideas and it would probably feature more of the same as we have this time…"
So, to help Sally on her way, here's TV Times' 7 new shocking story ideas for Happy Valley 2017…
1 CATHERINE'S NEW MAN WITH A DARK PAST
Sgt Catherine Cawood finds happiness with a new male companion – what about her permanently exasperated but supportive boss Inspector Mike Taylor – but then, in true Happy Valley style, it turns out he has a dark past. Or is it his jailbird son who has the dark past……?
2 COVER UP OR SHOP CLARE?
Recovering alcoholic Clare Catwright falls off the wagon, drink-drives in sister Catherine's Ford Focus and has a serious accident. Catherine has the opportunity to cover up the accident and protect her sister, but, after moments of hesitation, she comes clean. But has that hesitation jeopardised her career?
3 DETECTIVE ANN V SGT CATHERINE …
With her obvious talent for detective work, Ann Gallagher is quickly promoted to CID, but a new murder case sees her clash with Catherine over the approach taken, leads followed and the suspects questioned…
4 ANN, DANIEL AND RYAN?
We saw the beginnings of this in series two, and in series three Ann Gallagher and Catherine's son Daniel Cawood could get together and adopt Ryan. But Daniel starts an affair with his ex-wife, Ann hits the bottle and then…
5 RYAN GOES OFF THE RAILS
Ryan Cawood is in regular but secret contact with his dad Tommy. Ryan begins to play truant, drink cider in the park, plot against Grandma Catherine - and then goes missing en route to Gravesend prison …
6 TOMMY'S NEW PAL
As fans know, Coronation Street veterans are always welcome in Happy Valley. Chris Gascoyne (alias Corrie's Peter Barlow) joins the cast as Tommy Lee Royce's prison pal who is brainwashed by Tommy and his very individual brand of Christianity, and led so far astray he ends up doing Tommy's work on his release…
7 TOMMY LEE ROYCE – MAN OF GOD
Ten years on from the events of series two, Tommy Lee Royce has found God, been released early from prison and become a much-loved and respected vicar in his hometown of Hebden Bridge. But can he really be trusted…? OF COURSE NOT!!
What do you think? Any better ideas? Let us know below in our comments section – official TV Times mugs for the three posts we like best. Good luck!




Thank you for signing up to Whattowatch. You will receive a verification email shortly.
There was a problem. Please refresh the page and try again.