Connie's dramatic exit! Plus more massive Casualty spoilers revealed!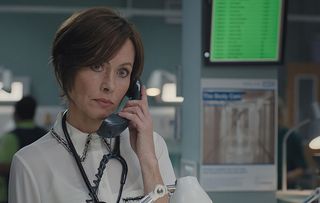 (Image credit: BBC)
Series Producer Lucy Raffety on the big storylines coming up for our favourite Casualty characters…
Curious about Iain Dean's scheduled Casualty exit, Connie Beauchamp's break from medicine or where Duffy's dementia storyline is headed?
We talked to Lucy Raffety, Casualty's Series Producer since 2017, and the mind behind some of the BBC1 medical drama's most applauded storylines, including the harrowing sexual assault of doctor Alicia Munroe and paramedic Iain Dean's battle with mental health issues.
Lucy recently announced she would be leaving Casualty but her influence on its future is set to continue for months yet.
"We film quite a way ahead so in some guise the storylines will still be mine until Christmas!" explains Lucy, who boldly gives favourite characters in-depth storylines amidst the chaos, crashes and emergencies the series is famous for.
"We've had to hold our nerve a lot with how long these stories play out for, but I'm so proud of how they turn out."
Here Lucy reveals more about what's coming soon in Casualty
Connie's explosive exit
With actor Amanda Mealing set to take a mini-break from the show, forces will conspire to end queen Connie's reign of Holby ED!
"Connie is our main story for the rest of this series," says Lucy. "Amanda gives an extraordinary portrayal of a woman desperately trying to cling onto who she is. Connie's anxiety becomes too much to bear.
"She turns to desperate measures that impede her ability to do her job. This is uncharted territory for Connie. Through everything we've chucked at her, she's always been able to rely on her brilliance as a doctor. She's fighting for survival."
Ciaran the destroyer
A major player in Connie's downfall is newcomer Ciaran Coulson (Rick Warden), who makes his first appearance this week. Appointed by hospital CEO Henrik Hanssen to turn around the failing ED, Ciaran's ruthless in the pursuit of results.
"Ciaran's brought in over Connie's head, compounding her feelings of inadequacy and anxiety," explains Lucy. "Connie's too proud to ask for help and goes into a downward spiral. Rick's phenomenal!"
Is Duffy leaving?
Much-loved nurse Duffy Fairhead (Cathy Shipton) sadly has vascular dementia. Does this mean the end of Duffy's time on the show?
"That's the worry. There's no cure for dementia, sadly. But there's still a long way to go with this story," promises Lucy. "We're keen to portray the reality of dementia and not just wrap it up with a bow. Focus will shift to Charlie [Derek Thompson] and how he copes with the gradual decline of the love of his life. We're doing it in a way that shows Duffy's strength throughout."
Jacob's duty
Nurse Jacob Masters (Charles Venn) will reconnect with his mum Omo (Ellen Thomas), who's being duped by drug dealers and is seriously ill.
"This is all about Jacob and Omo making peace," reveals Lucy. "He always wanted to look after her but due to her schizophrenia and other issues, she's never been able to let him."
More: Read our interview with Charles Venn for more on this story
Iain leaves…
But fear not, fans, the popular paramedic will return!
"Michael Stevenson is taking a break, so it's not goodbye… we hope!" teases Lucy.
"Poor Michael's exhausted. He put his heart and soul into Iain's mental health story. In a way it's good for us because we get to refresh the paramedic team. There will be a new paramedic, but we haven't cast him yet! Meanwhile Ruby's [Maddie Hill] story with stalker, Dani, gets bigger. It all goes horribly wrong…"
Also on the ward…
Archie Hudson and Will Noble… "There is no romance," says Lucy, ending speculation. "It's love-hate sibling-esque rivalry. They're far more fond of each other than they'd let on. Connie's story goes on to affect both of them very deeply."
Dylan Keogh… "There are no plans for his ex Ciara to return – at the moment," teases Lucy, who adds:
"The thing about Dylan is he's so brilliant, even when he doesn't have a story. He's integral to the whole department."
The next series…
But wait, there's more!
"Ethan, David and Dylan [George Rainsford, Jason Durr and William Beck] are very big in the new series," reveals Lucy. "The theme is 'The NHS Under Pressure.' It's about our medics working in a system that's creaking at the joints."
"There's a lot more to come from Marty and Jade [Shaheen Jafargholi and Gabriella Leon] too," says Lucy. "We get to see more about Marty's family. Later on, we learn more about Jade, who grew up in foster homes."
"New porter Rosa, played by Cold Feet star Jacey Salles, challenges David in all sorts of ways!" reveals Lucy. "There's an interesting story between the two of them that goes well into the new series."
"Dylan has a story starting at the beginning of the new series," adds Lucy. "Ethan's also very big... It all kicks off! He goes on a big old journey..."
Casualty continues on BBC1 this Saturday
Get the latest updates, reviews and unmissable series to watch and more!
Thank you for signing up to Whattowatch. You will receive a verification email shortly.
There was a problem. Please refresh the page and try again.