Up close with Paul Dano, the beating heart of BBC1's War and Peace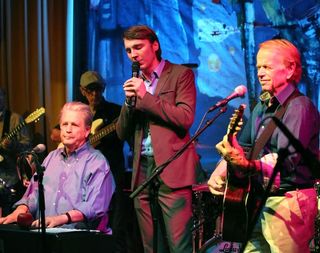 (Image credit: Buchan/Variety/REX/Shutterstock)
Poor old Pierre Bezukhov is a bit of a blunderer in War & Peace. He is constantly taken for a fool. He has a pudding bowl fringe, yet he has also, perhaps, been the best thing about the BBC1's terrific Sunday night epic, a geeky anti-hero who is impossible to dislike – and who may yet get the girl.
We meet up with Paul Dano and his co-star Brian Cox, who plays General Kutuzov, in a little hotel room overlooking central Vilnius, Lithuania, where War & Peace was headquartered and we want to learn how a Hollywood star ended up playing the heart-on-his-sleeve Pierre...
What makes Pierre so lovable?
Paul: "His decency. He keeps trying and failing to find a purpose, to do something good with his life. He's trying to find who he is and why he's here – and then trying to find love. He's a really special spirit."
How much action training did you get for War and Peace?
Paul: "Action? Now let me think… Well, I'm learning to do some riding... so that I'm safe."
Is Paul charming like his character?
Brian: "Pierre's charm has an awful lot to do with Paul himself. He is a surprisingly quiet, ponderous presence. Put him in front of a camera, though, and he's absolutely magnetic."
You were raised in a New York family and your father was a financial advisor, so how did you get into acting?
Paul: "I took acting lessons as a child and had an early taste of fame in the Broadway hit Inherit the Wind, aged just 12 and had various cameos. I played twins opposite Daniel Day-Lewis in There Will Be Blood, a sullen, mute teenager in Little Miss Sunshine and a loathsome plantation worker in 12 Years A Slave. My biggest recent role was as Beach Boy Brian Wilson in the biopic Love & Mercy."
Paul singing with original Beach Boys Brian Wlson and Al Jardine (Buchan/Variety/REX/Shutterstock)
But from the beginning Paul never shied away from offbeat roles..
Brian: "I first worked with Paul when he was a teenager. We did this film called L.I.E., which was very controversial at the time [Cox played an adult who was infatuated with Paul's 15-year-old character]. And then later on we did a film called Good Heart, in Iceland. So this is our third outing. I think he's a wonderful young man, and very talented."
What makes him special?
Brian: "He's got something else going on. A lot of Americans are very easy in their bodies, but Paul can actually portray people who are not easy in their bodies.
"He has a great gift of being... awkward. He's not awkward [in real life]; he's very together, quite shy, quite private. He also doesn't have that 'Hollywood' face. He has a real face. I thought it was genius to cast him as Pierre."
Did you find Pierre a difficult role to live up to with Henry Fonda and Anthony Hopkins having played him before?
Paul: "I did find it daunting, but probably not for that reason. More for what the character asks. He goes on a pretty big journey. He goes through a lot and has to figure a lot out. So the character and how to be there for him is why it was daunting, rather than because it's a character in a certain book.
The series was filmed all over Russia and Eastern Europe and the scenes flip constantly from 1805 to 1812 depending on the day. Was that a challenge?
Paul: "Yeah, that was really hard. It can definitely be overwhelming to go from being somewhere in the first hour to somewhere in the fifth hour. You just try your best to keep track."
What was it like being the only New Yorker in a cast of Brits?
Paul: "Coming over here at first and knowing I was going to be doing an accent was tricky. But now it's super easy. I've made friends and we've all been in this for quite a while. I think the only thing that's hard about it is that they're only a two-hour flight from home, while I'm much a longer way from home."
So what have you been doing when you're not filming?
Paul: "Oh I have an impressive list of Vilnius's finest watering holes. A lot of the crew live by this place called 7 Fridays, so I often end up there. Then there's Namai, Yucatan, Kitchen, Sue's Indian Raja...
"In between, I've gorged on Tolstoy as I'm a long-term fan of Russian literature and I've also squeezed in some gun training – since Pierre has already ended up in a duel, and will consider assassinating Napoleon before the series is out."
An action man despite himself?
Paul: "Well, luckily, in terms of skill sets, Pierre doesn't really know how to fire a gun. Thinking about it, he doesn't really know how to ride a horse that well, either!"
Get the latest updates, reviews and unmissable series to watch and more!
Thank you for signing up to Whattowatch. You will receive a verification email shortly.
There was a problem. Please refresh the page and try again.