Vera fans love show's return but complain about 'awful' accents - except Brenda's!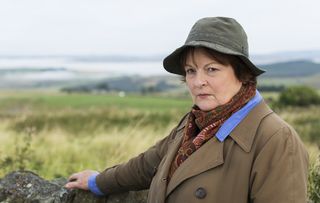 Viewers think Brenda Blethyn has 'nailed' Northumberland accent, but not sure about some of the other actors as ITV show returns
Detective drama Vera has been criticised by viewers who claim the Northumberland accents on the programme are not accurate and can be "tough to hear".
The hugely popular show starring Brenda Blethyn - who endured a hilarious incident with her dog on This Morning last week - as DCI Vera Stanhope returned to ITV on Sunday night for its eighth series.
Viewers were gripped as the detective investigated after a body was found in an abattoir, calling it a "triumphant return" to television screens.
But some felt the Geordie accents let the crime show down.
One viewer moaned on Twitter: "Well I've managed 15 minutes watching #Vera and can't take anymore of the awful attempt at a north east accent #cringe #packitinpet."
One said: "Absolutely love #Vera but oh dear the accents."
"Are there ANY real Geordie actors in #Vera ? Some of the accents are downright shockin'," said another.
One unimpressed viewer tweeted: "First time watcher. Accents so bad. Last time watcher."
One person said the show offered a "tumble dryer mash-up of North East accents".
"I love #Vera I do, but the Geordie accents are not good, as someone from North East they are tough to hear," said another.
It is not the first time the detective series has been criticised over regional pronunciations.
However, there were some viewers who thought actress Brenda, 71, had cracked it this time.
One praised: "Love watching #vera me like. @BrendaBlethyn has nailed the accent.
"Northumbrian, ashington pit-yakker, with bit of river Newcastle, but pronounces O's like a posh Geordie. As a DCI would I expect."
And one viewer pointed out: "#Vera Why do people watch this and complain about the accents? It's one of the best things on TV. If you don't like it don't watch it."
Vera and her team will investigate three more cases during the current season – a mysterious car crash, the death of a teenage boy and a suburban back garden murder.
Get the latest updates, reviews and unmissable series to watch and more!
Thank you for signing up to Whattowatch. You will receive a verification email shortly.
There was a problem. Please refresh the page and try again.