Watch Adele on James Corden's Carpool Karaoke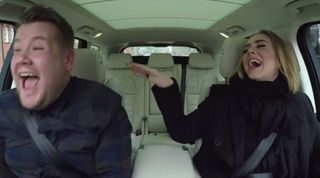 Adele hopped into James Corden's car for a spontaneous singalong in the latest edition of Carpool Karaoke – and the vehicular surroundings somehow make her voice even more spectacular.
In the sneak peek that James released, he can be seen joining Adele for a pitch perfect rendition (on her part) of Hello and Rolling in The Deep for her Late Late Show debut.
http://www.youtube.com/watch?v=O6REBmZ0NDY&feature=oembed
The show is filmed in LA, but clever viewers spotted James driving on the left in the clip, indicating that Adele's lured the British host back across the pond for their singing session.
Parodying her latest chart-topper, James can be seen on the phone in the clip telling Adele, "Hello, it's me."
"I was wondering if after all this time you'd like to meet," he continues.
"Hello, from the outside," he says, pointing at his car door.
Clad all in black and clutching a mug, Adele soon wraps James up in a conundrum about her sleek new bob.
"I can't work out whether I should have a wig wig or wear a weave?" she ponders about her hairstyle for the next day.
"What I like is that you're coming to me for this advice," laughs James.
The full karaoke session will be screened on James's show on US network CBS on Wednesday.
Get the latest updates, reviews and unmissable series to watch and more!
Thank you for signing up to Whattowatch. You will receive a verification email shortly.
There was a problem. Please refresh the page and try again.