Waterloo Rd's Naveed: 'Tariq is ready to give up'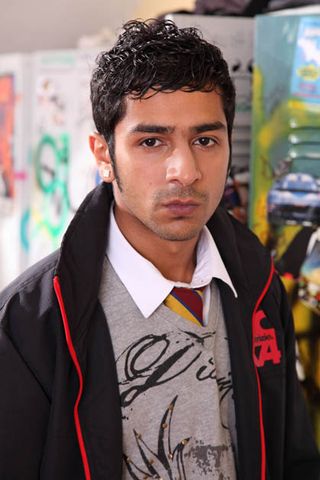 (Image credit: BBC/Matt Squire)
Naveed Choudhry reveals the traumatised teen has reached rock bottom in Waterloo Road (BBC1, Thursday)... Next week we see Tariq struggling physically and emotionally after being paralysed in the crash. What's going through his head? "The crash has turned Tariq's life upside down. He's dealing with the reality of living without the use of his legs. But it's not just about his legs it's also about his mood and how he interacts with everyone. He's fed up of people feeling sorry for him. Really they're being good friends, but because he's depressed he sees it as pity." Does anything in particular push him closer to despair? "In last week's episode Lula told him it was god's will he was in a wheelchair because he has an ugly heart. He's started thinking she has a point and perhaps Karma has come back to bite him after his behaviour last year - when his sister Trudi got pregnant he put pressure on her to have an abortion. Also, his family aren't there to support him and he's too proud to ask for help." What finally tips him over the edge? "A few emasculating things happen that get him into a really bad place. First you see Tariq falling out of the bathtub and having to be helped by Mr Budgen. Later, at school, he has an accident and ends up wetting himself. At this point he feels ready to give up. He's angry he's in a wheelchair, it feels like a prison sentence." Is his suicide plan an impulsive act or something he gives a lot of thought to? "It's something that's been gradually building until he gets to breaking point. Tariq's a clever lad and has a cunning side to him! He sets a plan in motion to distract everyone's attention away from what he's planning to do at his kayaking trials. He's lost faith in everything from friendship to his own religion." How did you prepare for the demands of the storyline? "I wanted it to look as authentic as possible to do the paraplegic community justice. I had the benefit of meeting a paraplegic gentleman who helped me see the world from a different angle. We went around Manchester in wheelchairs together and it was quite an experience. I also did counselling sessions in character, which helped me tap into the depressed and defensive side of Tariq. It's been great to play this side of Tariq and show people there's more behind the boy than his plastic gangsta persona!"
Get the latest updates, reviews and unmissable series to watch and more!
Thank you for signing up to Whattowatch. You will receive a verification email shortly.
There was a problem. Please refresh the page and try again.