Waterloo Road's Heather Peace: 'Nikki refuses to leave the school!'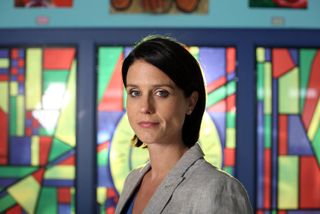 Waterloo Road star Heather Peace reveals the end of term may spell the end of Nikki Boston's teaching career.
English teacher Nikki Boston finds herself fighting for her job and reputation this week when troubled student Gabriella frames her for violent assault!
Trouble rears first it's head when Nikki's pet pupil and Waterloo Road's star boxer, Kacey Barry (Brogan Ellis), reveals jealous Gabriella's maliciously injured her. Devastated Kacey's chances of competing in the Commonwealth Games are destroyed furious Nikki confronts Gabriella – the same troubled pupil who revealed her fling with PE teacher Hector to her former fiancee Vix earlier this series!
Heather Peace, who plays the tough-talking teacher, explained in an interview to What's on TV: "Nikki knows Kacey wouldn't lie. She also knows what Gabriella's like. So she goes to see Gabriella while she's alone in the cooler - but while she's in there Gabriella suddenly starts hitting herself – she rips her own shirt and punches herself in the face! Nikki grabs hold of Gabriella to make her stop, and at this point Simon walks in. It really doesn't look good."
It's Gabriella's word her, and Nikki's case isn't helped when acting headmaster, Simon, wants to suspend her immediately!
"Nikki's great, she doesn't play the victim at all. She tells Simon it's rubbish and refuses to leave the school!" says Heather, who also starred in London's Burning and Lip Service.
"It's really unpleasant being falsely accused of something so horrendous. There's no way Nikki's giving up without a fight."
Tune into the series finale of the current series on BBC1, Wednesday, 8pm, March 12th to see how Nikki and suddenly sober headmistress Christine fare on the final day of another eventful term.
Get the latest updates, reviews and unmissable series to watch and more!
Thank you for signing up to Whattowatch. You will receive a verification email shortly.
There was a problem. Please refresh the page and try again.