Find out what The Chuckle Brothers are up to now...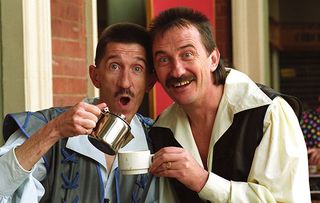 (Image credit: David Bagnall/REX/Shutterstock)
Age-gap romances, party pensioners and charity singles... here's what REALLY happened to The Chuckle Brothers
They captivated our childhoods with their amusing on screen antics, but what ever happened to The Chuckle Brothers?
Are they still Chuckling?
The quick answer to that is no. Chuckle Brothers Barry, 73, and Paul, 70, made 292 episodes of their BBC series ChuckleVision between 1987 and 2009, but sadly it then came to an end. When asked if the show might return by one of the 200,000 strong fans who 'liked' a Facebook petition to bring it back, Barry said: "I doubt it'll happen – the BBC aren't interested."
So how did they start out, then?
It was actually Barry and Paul's older siblings Jimmy and Brian who began performing as a comedy duo, The Patton Brothers, way back in 1954! The four brothers then appeared together as the Chuckle Brothers in the 80s, before Paul and Barry found kids' TV fame as a duo with The Chucklehounds in 1985 and then ChuckleVision.
What do they do now?
They may be drawing their pensions now, but Barry and Paul rarely seem to put their feet up – they often do nightclub personal appearances or get paid for promotional events. And in 2014, in quite possibly the most comedic collaboration of all time, the pair teamed up with rapper Tinchy Stryder on the song To Me, To You (Bruv), which was recorded to raise money for the African-Caribbean Leukaemia Trust. After the official video for the track racked up millions of views within the rap community, the Chuckle Brothers' manager Phil Dale said: "With all sincerity, the track wasn't done to gain the Brothers street credibility."
https://www.youtube.com/watch?v=EBtd3H3Qdi8
In September 2015, the Brothers performed for twenty minutes at the music festival Bestival, citing it as the biggest crowd they had ever performed in front of.
The duo were most recently spotted on the ITV comedy Benidorm for a cameo where they played a magician and his assistant.
What about their personal lives?
Both brothers are married – Barry's wife is called Ann and Paul's married to Sue.
Famous Friends?
In last year's book Fifty Years Of To Me… To You, Paul revealed: '"In the summer of 1980 we used to go clubbing with a music promoter who I think was Simon Cowell." Blimey!
Get the latest updates, reviews and unmissable series to watch and more!
Thank you for signing up to Whattowatch. You will receive a verification email shortly.
There was a problem. Please refresh the page and try again.