Who shone for Gary Barlow and the Let It Shine judges this week?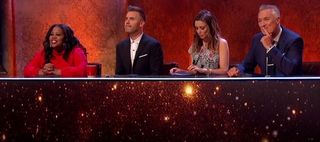 (Image credit: SarahFinleyFreelance)
The second episode had some strong contestants, but some didn't shine enough for Gary and the judges.
Who shone through for the judges and who didn't quite cut it? Here's what happened on tonight's episode of Let it Shine.
Johnny, 25, was first up. The West End star who has been in White Christmas, but is also an ice cream seller, went down well with the judges even before he sang.
Gary commented saying: "Nice entrance."
He went on to sing 'Reet Petite' by Jackie Wilson. Dannii Minogue was obviously impressed, who said: "Oh my - how are you still selling ice cream?'
Martin Kemp added: "You blew the roof of the house, you should be in the band."
And obviously all the other judges agreed, as to his delight he got all 20 stars.
Irish actor Dillon Reid, 20, was next, who come on with his guitar. The actor who has been on stage since he was three, had just finished in Once the Musical in Dublin.
Singing his version of Katie Perry's 'Roar', Amber loved it saying: "So good, it really was."
But Dannii Minogue disagreed saying: "There was something missing, I think it may have been nerves. Maybe if I saw you again you would have shaken off some of those nerves."
The other judges were on board though and gave him 16 stars in total. Gary, who gave him 4 stars said: "Your points are based on potential, I want you get rid of those nerves the next time I see you."
The first to not get through was Lee, 35, a charity worker by day and by evening a singer in Take That tribute band, much to the enjoyment of the other judges. Unfortunately his singing didn't quite cut it for the judges.
Curtis, 22, from Leeds - who had a real 'boyband' look wrote for singers such as Matt Cardle. He went on to impress the judges with his soulful take on Corinne Bailey Ray's 'Put your records on'.
After the judges gave him 19 stars Gary said: "Oh my goodness, what a voice. That is soul, you either have that or you don't."
Choir singer Julis, 20, who was surprised by Gary while he was singing in his choir, was asked to come and perform on the show by Gary himself.
The singer and dancer sung a great version of 'All night Long' by Lionel Ritchie and got an impressive 16 stars from the judges.
Judge Amber, who gave him 4 stars loved him and said: "It was infectious and fun - I really enjoyed it."
Jamie, 24, who's a cruise ship dancer, rocked it out with a Chuck Berry's classic 'Jonny B. Goode' and even threw in some fancy dance moves.
Dannii said about his performance: "It was great singing and dancing, but what was missing was the be-livability" - however the judges gave him 17 stars and he got through to the next stage.
Scott, 23, from Liverpool, performer and understudy in Mamma Mia sung the Phil Collins hit 'Against all odds', but had mixed comments from the judges and failed to make it through with just one star off. The girls gave him less votes, with Dannii only giving him just 2 points, she said: "I think you were pushing it tonight and I feel as though you wouldn't work in the band."
Last on the show was the good looking Harry, 26, an out of work actor he sung an interesting version of 'Beggin' by duo Madcon. His good looks went down with the crowd and the judges were keen on his singing and dancing - giving him 16 points.
Amber, who was obviously a fan said: "I heard nothing, but all jokes aside, it was really good."
Next week will see more hopefuls auditioning for Gary Barlow and the rest of the judges, tune in on BBC 1 at 7pm.
Get the What to Watch Newsletter
The latest updates, reviews and unmissable series to watch and more!
Sarah is a freelance writer and regularly writes for publications including Womanandhome.com, Independent, BBC and What to Watch. She mainly writes about health, fitness, TV, and travel. Sarah loves gritty crime dramas, sitcoms, and reality shows, while she always amazes her friends at how quickly she can binge-watch the latest on-trend Netflix show.