X Factor's Dermot O'Leary says Louis Walsh is 'meaner' than Simon Cowell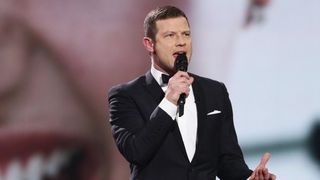 Simon Cowell does not deserve his 'Mr Nasty' reputation, according to the X Factor's host Dermot O'Leary.
Simon's fellow judge Louis Walsh is actually far more likely to make catty remarks, Dermot has said.
The TV host, who returned to the show earlier this year after a one-series absence, said Simon began to mellow even before he became a father to son Eric.
He told ITV's Lorraine: "Even before that, over the last five years you will rarely hear him say something mean, it's actually a bit of a misnomer.
"He's a far warmer beast than people think and he actually gives quite constructive feedback and Louis gives far bitchier lines."
Dermot told the show he had asked Simon not to air the brutal six-chair challenge part of the audition rounds, but Simon responded: "Great, marvellous. I love the fact you don't like it."
But Dermot added: "He's relaxed over time, he doesn't mind that I don't like it, he embraces it, he's happy to see me unhappy."
He also ruled out an appearance on the X Factor's rival show Strictly Come Dancing, despite impressing audiences with his moves and twirls at the beginning of each show.
He said: "It's good with 10 minutes rehearsal, which is what I get.
"One of the Dermorettes (his backing dancers) will scream at me what I need to do because when you rehearse it's just a stereo and then when you do it you can't hear anything in the studio."
The X Factor final starts on ITV at 8pm on Saturday.
Get the latest updates, reviews and unmissable series to watch and more!
Thank you for signing up to Whattowatch. You will receive a verification email shortly.
There was a problem. Please refresh the page and try again.