X Factor: Sami Brookes loses out in shock result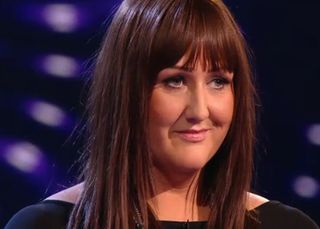 Sami Brookes has become the latest act to be voted off The X Factor after a tense results show which saw Louis Walsh forced to choose between two of his over 25s. The 31-year-old from North Wales found herself in the bottom two for the first time on Sunday night - and her opponent was Kitty Brucknell, who was also facing her first sing-off. Sami made her bid for survival singing the Aretha Franklin classic You Make Me Feel Like A Natural Woman while Kitty tackled Lady Gaga's The Edge Of Glory. However, after all the other judges had cast their votes, Louis was left with the decision of whether to send one of his own acts home or send the vote to deadlock - which would leave the result to be decided by public vote alone. Gary was first to vote, choosing to save Kitty. "Sami, that voice is undeniable," he said, "but I've always found you a little bit dated." And Kelly was in agreement - but had words of encouragement for both performers. "Can I both say you are both so talented, whether it's here at X Factor or anywhere else, you can sing, both of you," she said. "This is really hard - Sami, I absolutely adore you, Kitty you're a wonderful entertainer - but the person I'm sending home tonight is Sami." Tulisa then notched up the tension by choosing to send Kitty home - leaving Louis with the casting vote. And rather than send the vote to deadlock, he opted to send Sami home - to a less than positive reaction from the audience, who were chanting Sami's name and booed as the judges voted for her. "I loved both girls, they were incredible in the sing-off," he said. "Kitty, I love your work ethic but you're not connecting with the public, you've got so much more to give to the competition. Sami, in the sing-off you were incredible. "I don't know why I have two acts in the bottom two," he added. "But I'm going to go with my heart, and the person I have to send home with my heart tonight is Sami." Afterwards a clearly emotional Sami said this would not be the end of her singing ambitions. "I may not be able to sell a million albums," she said, "but I am going to sing for the rest of my life." She had caused a rift between the judges on Saturday night's rock-themed show with her rendition of Cher's If I Could Turn Back Time - with Gary calling her performance "totally boring" and added, "We are trying to find someone who can sell albums, singles, cds, someone who can be a star. After that performance tonight, you're going to be none of the above!" However Louis Walsh had leapt to her defence saying she had been ill. "I'm not looking for a sympathy vote but she pulled it out of the bag, that was a very powerful performance," he said. Louis also apologised for the remarks he made on Saturday night's show in which he accused Misha B of "bullying" one of his acts backstage. "We're all so involved in our own acts but I got a bit carried away," he said. "I know I shouldn't have used the B-word and I apologise for that. It was heat of the moment." Ten acts now remain in the show, with Janet Devlin, Marcus Collins, The Risk, Craig Colton, Johnny Robinson and Frankie Cocozza - who narrowly escaped elimination last week - among those making it straight through on the public vote.
Get the latest updates, reviews and unmissable series to watch and more!
Thank you for signing up to Whattowatch. You will receive a verification email shortly.
There was a problem. Please refresh the page and try again.