Yorkshire town wants to be twinned with fictional Dad's Army setting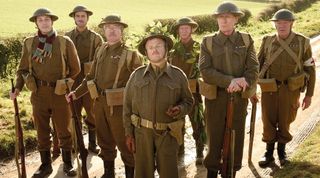 Civic leaders want to twin the seaside resort of Bridlington with the fictional setting of Dad's Army, Walmington-on-Sea.
Scenes for a new film of the BBC hit were filmed in Bridlington's old town, doubling as wartime 1940s Britain.
George Mainwaring (Toby Jones) and Rose Winters (Catherine Zeta-Jones) in Dad's Army (Universal Pictures)
Stars such as Catherine Zeta-Jones, who plays a reporter, Sir Michael Gambon as Private Godfrey and Toby Jones as Captain Mainwaring were seen in the East Yorkshire gem's old streets.
Now civic leaders from the Old Town Association want to make a firm association with Dad's Army ahead of the Universal Pictures movie release next year by twinning it with Walmington, even though it is not a real place.
Mayor John Copsey and town crier David Hinde came up with the idea.
The mayor said: "We have already seen an upsurge in tourism. We have had a lot of positive comments about twinning."
Sir Michael Gambon plays Godfrey (Anna Gowthorpe/PA)
Mr Hinde, who is press spokesman for the Old Town Association, said York had twinned with its historic predecessor Jorvik, to great success.
He added: "We want to get this organised because there is a lot of enthusiasm locally.
Toby Jones plays Captain Mainwaring in the Dad's Army film (Anna Gowthorpe/PA)
"I hope the film is a major success worldwide, and I think they will do justice to the original characters.
"If you combine the stars with the scenery and the heritage of the area, it will be quite special for Bridlington old town."
Get the latest updates, reviews and unmissable series to watch and more!
Thank you for signing up to Whattowatch. You will receive a verification email shortly.
There was a problem. Please refresh the page and try again.