The Young Offenders reveal: 'It takes a lot of effort to look this ridiculous!'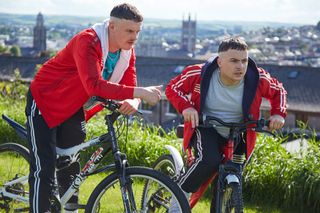 (Image credit: BBC/Vico Films/Miki Barlok)
Daft, endearing teen criminals Conor and Jock are back for more antics in The Young Offenders...
Most people prepare for a new arrival with neo natal classes and baby proofing their house. Wayward teenagers Conor (Alex Murphy) and Jock (Chris Walley) from The Young Offenders, however, are taking a different approach.
The pair of langers return for a second series of  cult comedy The Young Offenders. And while they're still stealing bikes, they've also branched into robbing maternity shops now Siobhan, Jock's girlfriend, is pregnant.
Meanwhile, mum Mairéad (Hilary Rose) is reconsidering her romance with local Sergeant Healy, and Linda wants to take her relationship with Conor to the next level…
"Series two kicks off with Jock coming to terms with Siobhan being pregnant and what that means," says Alex, who stars as Conor.
"You see early on that Jock's terrified of fatherhood. He just doesn't know what to do," adds Chris, who portrays Jock.
"Chaos ensues!" laughs Hilary Rose. "But although there is a lot of change this series, it always ends up with: What have we learned? That we're all eejits! And in the following episode they all do something else that's stupid and fun."
The opening episode (available on BBC iPlayer) sees Siobhan's dad, tightly-wound school principal Barry Walsh, announce he wants to adopt the baby once it's born. But, determined to prove Jock's ready for fatherhood, he and Conor somehow find themselves agreeing to look after an egg for a month to show that Jock can be responsible.
"I refuse to say how many eggs we got through during filming," laughs Alex. "There were a few fake ones and a few real ones. Chris really got into looking after 'Jock Junior' like it was a real child so he did really well."
WHAT IS ON TONIGHT? Check out our NEW and improved TV Guide
Set in Cork, The Young Offenders started out as a feature film in 2016, before being turned into a TV series in 2018. It's the first acting role for both Alex and Chris, and they admit it took time for them to get used to being on a professional set.
"For both of us, this was our first role," says Alex. "It helped that everything we were doing together was unique for both of us."
"On the first day on set, it started to rain and someone came up to us with an umbrella to keep us dry, and we thought that was mad," recalls Chris. "We would be asked if we wanted a drink and we'd just look at each other."
"Series one was quite fresh for all of us. We felt like we had to step up after the film. When series two came along I saw a massive difference in the lads," explains Hilary. "They turned from kids into men, and that reflects in their work. They're always amazing but in this new season they've really knocked it out of the park."
"Being in Young Offenders is an excuse to do things you'd never do in real life," admits Alex. "We have to have our hair cut every morning and shave twice a day. It takes a lot of effort to look this ridiculous!"
Series one and two of Young Offenders is available to watch on BBC iPlayer now. #Langers
Get the latest updates, reviews and unmissable series to watch and more!
Thank you for signing up to Whattowatch. You will receive a verification email shortly.
There was a problem. Please refresh the page and try again.