Yvonne Craig, the original Batgirl, dies aged 78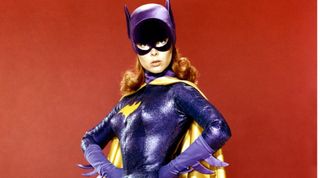 Actress Yvonne Craig, known for playing Batgirl in the original 1960s Batman TV series, has died aged 78.
Yvonne played Batgirl AKA Barbara Gordon in 26 episodes and also starred in Star Trek as Marta, a green Orion slave girl intent on killing Captain Kirk.
In a statement on her official website, her family said: "She died from complications brought about from breast cancer that had metastasized to her liver."
Yvonne Craig's family have confirmed her death (Rex)
They said she had not fully recovered from surgery performed before Christmas last year, which removed 'portions of her liver and some tumours as well as her gall bladder (not infected but in the way) and honestly she never totally recovered from that and more malignancies showed up again much to our dismay'.
They added: "She had been in chemo almost continuously for the past two plus years since being diagnosed and that had weakened her immune system as well as her body.
"This didn't dampen her sense of humour or her spirit, she intended to fight and win this battle. In the end, her mind still wanted to fight but her body had given up."
http://www.youtube.com/watch?v=n00xZ_mKQgk&feature=oembed
Craig started her career off as a ballet dancer and was the youngest member of The Ballet Russe de Monte Carlo. After being spotted she landed a lead role in the movie The Young Land, which sparked the beginning of a successful movie and TV career.
She starred alongside Elvis Presley in two movies, and in numerous TV shows, among them Mod Squad and The Six Million Dollar Man. More recently she voiced the character of Grandma in the Nickelodeon children's series, Olivia.
She is survived by her husband, Kenneth Aldrich, her sister Meridel Carson and nephews Christopher and Todd Carson.
Fans were quick to pay tribute on Twitter.
I'm so sorry to hear of Yvonne Craig's passing. From the moment my little girl saw her as Batgirl, she idolized her. pic.twitter.com/NIiRkVpswC
— Jennifer the Dag (@Jennifer_deG) August 19, 2015
RIP Yvonne Craig. You might have had the best STAR TREK guest shot of them all. pic.twitter.com/fowOsh6Kud
— Jordan Hoffman (@jhoffman) August 19, 2015
I am devastated. Rest in Peace, Yvonne Craig. Thank you so much for what you gave us. pic.twitter.com/07QDByyVv2
— Matt SantoriGriffith (@FotoCub) August 19, 2015
The beautiful Yvonne Craig. A true icon, inspiration, and artist. RIP. http://t.co/hs6aPz6r8w pic.twitter.com/9bNjDoe1Ig
— Andy Khouri (@andykhouri) August 19, 2015
Get the latest updates, reviews and unmissable series to watch and more!
Thank you for signing up to Whattowatch. You will receive a verification email shortly.
There was a problem. Please refresh the page and try again.