Did The Cutkelvins break a major semi-final X Factor rule?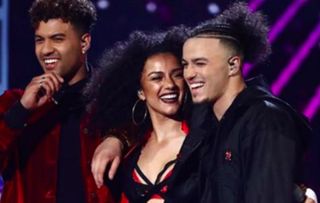 Fans have been calling the Scottish trio out for potentially breaking a big X Factor rule.
Last night saw the first of this weekends two X Factor semi-finals, as audiences sadly bid farewell to an act ahead of the season finale next weekend.
This weekend had been themed Cool Britannia, with the remaining six acts having to perform a song which fit the theme of celebrating the best in British music.
With the semi-finalists taking to the stage to perform renditions of classic songs from artists such as The Rolling Stones, David Bowie and The Beatles, the Scottish trio had taken to the stage to perform an original song written by themselves.
The original song performed by the band, which is titled 'Nothing Like You', had led to X Factor viewers questioning whether or not this had broken an X Factor rule - as every act must perform a song which fits with the theme of the week.
According to The Mirror, many fans had taken to social media to call the Scottish trio out after they were saved in the bottom two.
One user shares, 'The CutKelvins neither sang an original or a song even vaguely British'. Another writes, 'I love The Cutkelvins and that song was brilliant but how the hell it kept to the theme, I don't know'.
Agreeing, a third writes: 'How was the cutkelvins song fitting into he cool brittania theme exactly?'.
This isn't the first time the band have raised eyebrows among viewers, as the trio had been called out previously for potential rule-breaking during George Micheal week.
With the other acts performing some classic George Micheal songs, the siblings had taken to the stage to perform their rendition of some of George Micheal's covers - leading to veiwers arguing that this technically hadn't been classic songs by the late and great artist.
We'd love to hear your thoughts, so please comment below.
Get the latest updates, reviews and unmissable series to watch and more!
Thank you for signing up to Whattowatch. You will receive a verification email shortly.
There was a problem. Please refresh the page and try again.