Bradley and Barney Walsh: Breaking Dad season 5 — air date, episodes, interviews and all we know
Bradley and Barney Walsh: Breaking Dad season 5 — everything you need to know about the duo's latest road trip in Latin America.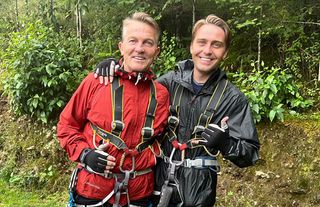 (Image credit: ITV)
Bradley and Barney Walsh are back on the road for Breaking Dad season 5.
After exploring the US and Europe in the previous seasons, the father and son duo embark on a 3,000-mile journey to explore everything Latin America has to offer, with pit-stops in Mexico, Guatemala, Nicaragua, Costa Rica and Panama.
And, as usual, enthusiastic and thrill-seeking traveler Barney has lots of high-adrenaline activities lined up for his unsuspecting and less adventurous dad!
So here's everything you need to know about Bradley and Barney Walsh: Breaking Dad season 5, including an interview with Bradley and Barney who also star together in ITV1's comedy-drama The Larkins.
Bradley and Barney Walsh: Breaking Dad season 5 — air date
There are seven episodes in Bradley and Barney Walsh: Breaking Dad season 5 and it begins with a double-bill of episodes at 9.00 pm and 9.30 pm on ITV1 on Tuesday, January 10, 2023.
Bradley and Barney Walsh: Breaking Dad season 5 — what happens in Episode 1?
Bradley and Barney begin their Latin American road trip in Mexico where the first activity on the agenda is an early-morning ride in a hot air balloon, which gives them a bird's eye view of Mexico City. Unsurprisingly, Bradley, who isn't good with heights, doesn't enjoy it very much, especially when Barney remarks how they are just being carried by a big bag of air!
Next, inspired by one of Bradley's favorite films, the Jack Black comedy Nacho Libre, the duo enter the world of lucha libre, or freestyle wrestling. As well as meeting the masked stars of the sport, known as luchadores, Bradley and Barney get to have a go at it themselves, assuming the names of Macho Nacho and The Epping Executioner, respectively!
Next Barney takes Bradley on an excursion to an island populated by hundreds of creepy dolls and has an equally creepy story behind it.
Bradley and Barney then face their toughest challenge yet when they head to Peña de la Tana mountain where they have to climb up a 700ft sheer rockface by following a precarious path made up of footholes, ladders and bridges.
But after climbing 500ft, Bradley doesn't think he can go on, especially when he has to swing on a rope from one precipice to another to complete the challenge.
So this episode finishes on a cliffhanger — quite literally — as we're left wondering if Bradders can summon the courage for the final push of their climb.
Bradley and Barney Walsh: Breaking Dad season 5 - what happens in Episode 2?
This episode picks up where we left off, with Bradley 200ft away from reaching the top of a 700ft sheer rockface.
He's not sure that he has it in him to finish the climb, but can Barney encourage him to complete the challenge?
When the pair are back on terra firma, they hop back into their trusty RV and travel to the east of Mexico, where Barney takes his dad to a pitch-dark cave that is home to bats and snakes. The snakes live in the roof of the cave and at a certain time of day they come out and feed on the thousands of bats that also dwell there.
Next on the agenda is a trip to a waterpark for a stomach-dropping ride on a vertical luge and a visit to the cast of Cirque Du Soleil, where Bradley and Barney get in on the act.
After all that activity, Bradley and Barney enjoy a more relaxing and tranquil experience when they venture into one of Mexico's famous cenotes, which is a deep, water-filled sinkhole formed in limestone.
As they dip their toes into the cool and calm water at the bottom of the cenote, Bradley and Barney finish the episode with a song!
Bradley and Barney Walsh: Breaking Dad season 5 — exclusive interview
While we were shivering in the freezing cold weather that hit Britain in December and worrying about whether we should put the heating on, Bradley and Barney were thousands of miles away in sun-soaked Costa Rica where they were filming the penultimate leg of the new series. We spoke to them via video call about their Latin American road trip…
Barney, you've planned some pretty tough challenges for Bradley since Breaking Dad began in 2019. Now that it's in its fifth series, are they getting more difficult?
BARNEY: "Yes, definitely, but Dad's attitude to some of the things we get him to do has changed. The things that he is throwing himself into now are leagues ahead of what we were doing in the first series."
BRADLEY: "I don't know why, but as I've got older I've become more fearful of speed and heights, so I don't mind the stuff they keep throwing at me because it helps me conquer those fears."
In the first episode, you face your toughest challenge yet at the Peña de la Tana mountain where you have to climb a 700ft sheer rockface. Tell us about that…
BRADLEY: "I didn't enjoy it. It was tricky!"
BARNEY: "That was probably one of the scariest things we have ever done and one of the hardest challenges we have had to face on this show as a team. It's so high and vast and it's fraught with all kinds of danger. You're clipping yourself on, you're clipping yourself off. Anything can go wrong in that situation."
Barney, you're usually chilled and relaxed when you attempt some of the challenges on Breaking Dad. Is there anything that fazes you?
BARNEY: "That's a good question…"
BRADLEY: "I know! Tell them about… [whispers in Barney's ear]"
BARNEY: "Oh, yes! In the second episode, we visit a cave in Mexico that's infested with bats and snakes! The snakes hang upside down in the cave and when bats come along they swoop down and catch them. That's how they catch their dinner. It's very dark and cramped in there and there are a lot of bats flying around and snakes hanging about. That kind of I'm A Celebrity challenge was quite freaky for me."
BRADLEY: "I actually really enjoyed it!"
BARNEY: "I think the tables turned that day!"
You also get up to some fun stuff, too…
BARNEY: "Yes, we can't throw Dad down a mountain every day! We have to sprinkle in a few rewards for him in there as well."
Bradley, you particularly enjoyed some lucha libre, or Mexican freestyle wrestling, and grappling with the masked stars of the sport, who are known as luchadores. Tell us about that…
BRADLEY: "Oh I loved it! It really made me laugh. It took me back to when I was younger when we watched wrestling on ITV's World of Sport on Saturday afternoons. We tried to get them to take their masks off, but they weren't having it!"
You always have an action-packed itinerary, but does it always go to plan?
BARNEY: "Things can go wrong. Something you have planned might fall apart and you might not be able to do it on that day, so we have backup items. One factor like the weather can seriously change or affect the schedule, so we may have to drop or change an item.
"We were lucky at the Peña de la Tana mountain because it was dry when we started, but it rained when we finished the activity. If we got there when it was pouring with rain, we wouldn't have been able to do it because it would be too wet and slippery."
You cover a lot of ground on your road trips. What is it like to be away for so long?
BRADLEY: "We actually split the filming up because we can't be away for five weeks at a time. We do a few weeks and then come home for a rest. I'm 62 now and it's exhausting!"
After five series of road trips, you must have packing down to a fine art?
BARNEY: "It's a bit chaotic, actually! We have a lot to pack because we're away for a long time. Dad's brilliant at it, but I just throw everything into a case."
BRADLEY: "I'm old school. I like to have everything folded neatly."
As Bradley doesn't know what's planned for him on these trips, how does he know what to take?
BARNEY: "I tell Dad what to pack, basically! We've planned a lot of different things and I don't want to let the cat out of the bag so I give him a packing list and say make sure you bring shorts, make sure you bring waterproofs. It's very funny because sometimes the packing list will let on what we're doing but I try to keep it from him as much as possible."
You're back on the road in your trusty RV. Do you enjoy spending time on there, or does it make you long for home?
BRADLEY: "Obviously, I miss my wife, Barney's mum [Donna], the dog and the family, but the things I need and totally forgot are a) my sunglasses and b) a proper pillow. I can't sleep in the RV unless I have a proper pillow."
BARNEY: "We try to make the RV as comfortable as possible because it's our home from home. I think I've got everything I need but the Wi-Fi keeps playing up. It's really hard to get signal."
BRADLEY: "I don't mind that. As long as I've got the radio and some music on, I'm fine!"
Get the latest updates, reviews and unmissable series to watch and more!
Writer/Editor on Chat, Woman, Woman's Own plus TV & Satellite Week, TV Times and What's On TV
Michael writes about TV for Woman, Woman's Own, Chat, What's On TV, TV Times, TV & Satellite Week and regularly contributes to whattowatch.com (opens in new tab).
After graduating from the University of Winchester with a degree in English and American Studies, he chose a career that combined his great passions in life – magazines and television – and he has primarily worked as a TV journalist for more than 25 years.
He loves classic sitcoms such as The Good Life, Hi-de-Hi! and Man About the House, as well as shows such as Downton Abbey, Call the Midwife, The Great Pottery Throwdown and The Real Housewives of Beverly Hills.
Some of his favourite people who he has interviewed over the years include Gillian Taylforth, Linda Robson, Sara Davies, Alex Polizzi and Bradley Walsh!
Thank you for signing up to Whattowatch. You will receive a verification email shortly.
There was a problem. Please refresh the page and try again.