'The Larkins' — how to watch, cast, plot, trailer and all you need to know
'The Larkins' is based on H. E. Bates' iconic novel The Darling Buds of May.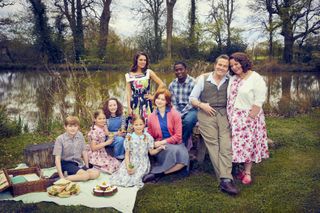 (Image credit: ITV)
The Larkins is an exciting new ITV adaptation of the much-loved novel The Darling Buds of May, which was famously turned into a series starring David Jason, Pam Ferris, and future Hollywood star Catherine Zeta-Jones.
The series, which has now aired, is written by The Durrells screenwriter Simon Nye, and he said: "The novels are short, hilarious and magical. We will be expanding the Larkins' world a little and can't wait to immerse ourselves in this glorious countryside idyll."
The last adaptation was 30 years ago, and ITV has teased that The Larkins aims to capture "the warmth, optimism and escapism of The Larkin family for a modern generation". With the original Darling Buds of May being such a successful series for ITV, hopefully the modern adaption will be just as well received.
There's even going to be a Larkins Christmas special to enjoy!
Here's all you need to know about The Larkins...

'The Larkins' release date
The Larkins started on Sunday, Oct.10 at 8pm on ITV and the series has now ended. You can catch up with the series on the ITV Hub.
What is 'The Larkins' about?
The Larkins is set in the 1950s and follows a working-class family led by "golden-hearted wheeler-dealer" Pop Larkin and his wife Ma. The couple has six children including the beautiful Mariette, who the series focuses on as we discover her romance with village newcomer Cedric "Charley" Charlton. Charley initially comes to the village to investigate the Larkins' tax affairs but soon gets distracted!
Each member of the family has a strong work ethic and a disinterest in authority, which makes for plenty of laughs and drama across the series.
Who is in the cast of 'The Larkins'?
Bradley Walsh
The Chase's own Bradley Walsh will play Pop Larkin in The Larkins. Bradley will be taking on the iconic character last played by David Jason. In a statement, he said: "I'm thrilled to be asked to be part of this much loved and iconic series of stories. The warmth and affection that H. E Bates has generated through his books is so uplifting and I cannot wait to be part of the Larkin family. It'll be a hoot!"
Speaking of his character, Bradley added: "I live in the countryside in Essex, and I know about three or four Pop Larkins! He's the sort of bloke who, if you were sitting on your own in the pub, would say: 'Do you want to come and join us?' Where his money comes from, who knows? He's a wheeler-dealer, but not in the sense where you wouldn't buy a car off him!"
Bradley's son Barney Walsh will be playing the role of PC Harness, reuniting the duo on-screen following the success of their ITV series Bradley & Barney Walsh: Breaking Dad.
Joanna Scanlan
Meanwhile, Joanna Scanlan will star opposite Bradley as Ma Larkin, and said: "What better comfort could there be from all we have endured this year than the rolling laughter and outsize hugs of Ma and Pop? It's going to be an honour to help bring The Larkins to the nation's devices!"
Speaking of Ma and Pa Larkin's relationship, Bradley added: "Pop's relationship with Ma is that they've known each other since they were kids, and they've grown up together, they have exactly the same ideals, the same values, the same ambitions, and the same aspirations, they love their family life, they love the farm life and they love life."
Sabrina Bartlett
Bridgerton star Sabrina Bartlett will play the couple's daughter Mariette, the same role that made Catherine Zeta Jones a household name.
Tok Stephen
Grantchester's Tok Stephen is set to play Cedric "Charley" Charlton in the new adaptation.
Other confirmed cast includes Peter Davison (the Vicar), Kriss Dosanjh (Brigadier), Amelia Bullmore (Miss Edith Pilchester), Seeta Indrani (Miss Chand), Robert Bathurst (Johnny Delamere), Stephen Hagan (Tom Fisher), Francesca Waterworth (Libby Fothergill), Tony Gardner (Alec Norman) and Selina Griffiths (Norma Norman).
There's also additions to the Larkins family, including Lydia Page (Primrose Larkin), Liam Middleton (Montgomery Larkin), Lola Shepelev (Victoria Larkin), Davina Coleman (Zinnia Larkin) and Rosie Coleman (Petunia Larkin).
What happens in episode one?
The first episode sees a buzz in the village for the May Day Fair.
Pop Larkin approaches the Vicar, and the snobby Norma and Alec Norman outside the pub. Alec demands that Pop move his "ugly vehicle" as it's obstructing his sports car.
Pop discovers that the Master of Hounds, Ralph Fortescue, has resigned, taking his land with him.
Pop's 13-year-old son Montgomery attempts to move Pop's pickup but with disastrous consequences.
The Brigadier turns up at the Larkin's home, concerned that they want to appoint Alec Norman as Master of Hounds, branding him an "utter rogue."
The Larkins' lively spirit was soon cut short when Mariette drops some bombshell news that she wants to move to Paris, which worries the Larkin family and they soon begin thinking of ways to convince her to stay.
While Mariette drops her sisters off at school, sparks fly between her and newcomer Tom Fisher.
Ma approaches Norma at the shop where she overhears her discussing that she wants to nominate her husband, Alec for the role of Master of Hounds because he's the right caliber of person and that there's "not many men of caliber in the village." Norma laughs at Ma's mention of nominating Pop as Master of Hounds, saying "He'll never be Master because he's common. And there are rumours he can't read."
To earn more respect, the Larkins come up with a plan to buy a Rolls-Royce — and Pop knows just where to get one. He recruits Victoria and Montgomery to come with him to actor Johnny's house where he has an old Rolls-Royce in need of some serious work.
The Larkin's soon get to work on the Rolls-Royce and Montogomery paints the family's coat of arms on the side, which thoroughly impresses the Vicar, who Ma tells him that they're technically nobility now since the car came with an earldom. She then pulls out a book from the car saying that Pop's must have left it in there and that he can't get enough of reading.
The May Day Fair arrives and the Larkin's soon trick Alec at the charity auction, who throws some harsh insults at the family and loses his right to become Master of Hounds. After the Vicar offers the position to Pop, he kindly rejects it, and so does Ma, but instead tells him that Brigadier should do it.
But, it's not long before the taxman, Cedric 'Charley' Charlton arrives at the Larkins' home, where he instantly takes a shine to Mariette.
What happens in episode two?

After they invite Charley the taxman into their home, Charley's attempts at finding out the Larkins tax affairs goes wrong when they shower him with alcoholic beverages (as well as their charm and wit), which results in Charley getting drunk and having to stay the night after missing the last train home.
The Larkins are hopeful that he would be good for Mariette and may convince her to stay home.
Charley returns to tell him that he's opening an investigation into their tax affairs, so Mariette decides to try and use his affections to woo him by offering to talk about the family business while they go for a walk in the woods. Meanwhile, Pop wants to buy Lady Rose's mansion and word soon spreads around the village.
Mariette flirts with him as he changes out of her pyjamas he was wearing from the night before and they have a small heart-to-heart about their lives while they lie down together in a field.
Pop is concerned when Mariette invites Charley over for dinner, but she reassures him that it would be an opportunity to convince him how "poor and honest" they are.
Alec Norman turns up at Charley's room telling him the news that Pop has bought a mansion with several thousand pounds worth of cash and that Pop is "a wide boy and a leech."
An angry Charley tells them what he's heard and refuses to come in for dinner, realising that Mariette was distracting him from Pop's dodgy dealings and Mariette is left fuming later after she confronts Charley.
Brigadier and Edith attempt to win Charley over by praising Pop's kindness and generosity when helping the community with money.
Charley apologises to the Larkins, saying that they give away more money off their own back than they would in tax, and offered to help them with their tax problems.
The community watch the village's Straw Man Race while Pop confronts Alec about his tax evasions with the help of Charley.
Charley decides to stay with the Larkins for a while longer.
What happens in episode three?
In the third episode of The Larkins, Ma and Pop go on a weekend break away from the family farm after Ma becomes concerned that Pop is spending too much time working and needs to "slow down". For their getaway they chose to go to Margate, to spend some time by the sea and they book a luxury hotel to make the most of their break.
Unfortunately though despite the hotel looking fancy, the couple really weren't happy with the room because the view was disappointing, it was cramped and the bed was a lot smaller than expected. Despite the issues with the room, Ma and Pop make the most of their holiday by tucking into ice cream, playing on fairground rides and playing ball games with other people visiting the beach.
They also gatecrash a wedding taking place at the hotel they're staying in by dishing out the champagne and trying to liven things up. Meanwhile during their trip, eldest daughter Mariette and unofficial lodger Charley are left at the farm to mind the kids. This gives the two more of an opportunity to connect, as Charley continues to work alongside Mariette on the farm. Tom flirts with Mariette by inviting her out to dinner and she agrees, much to Charley's obvious disappointment.
Later on, a doctor comes to the house to look at Charley but refuses to give him a sick note until the children bribe him with food and alcohol, having been put on a strict diet by his wife. On top of this, Pop buys a second television for the Larkins so they can watch both channels, but experiences signal issues so Mariette has to step up and take charge of getting hold of a new aerial from Wilf. At first, he's reluctant to let her haggle but eventually gives in. With Mariette still having her heart set on going to France, she's trying to save money and puts her haggling skills to the test.
What happens in episode four?
Charley finds himself conflicted over whether to return to his job in Catford or stay in the idyllic Kent countryside.
Mariette and Charley go strawberry picking for the May Day Fair, where Pauline takes a shine to Charley and flirts with him, much to the annoyance of Mariette.
Meanwhile, Pop hears the troubling news that the railway station is closing. He seizes the opportunity to save the train station and teams up with Miss Chand with the idea of an educational train ride for the students to raise money for the station.
When the children and the locals all take the opportunity to take the train and save the station, Pop comes up with an idea to sell strawberries to hungry passengers, after finding out there's no longer a refreshment trolley.
Charley resigns from his job, deciding to stay in Kent. However he's left disappointed and jealous when he sees Tom and Mariette together and spends the evening drinking with Pauline at the pub.
Ma Larkin continues to serve strawberries and cream to the train passengers, while Pop takes Charley out on one of his wheeler-dealing trips.
A fight breaks out between Pauline and Mariette in the strawberry field and Foxy tells Pop that the train takings still aren't enough to keep the station open.
Trainspotter Katy and Pop pay a visit to the train company where Katy spots an error in the takings and they soon find out that Foxy has been stealing the money.
Pauline tries hard to win over Charley, but he rejects her advances and later has a heart-to-heart with Mariette in the woods. Unfortunately it didn't go all too well for Charley, as when he tried to declare his feelings for Mariette, she interrupted him and wanted to focus on something else.
But, things were made worse when Charley saw Tom Fisher kiss Mariette, which she rejected, at the party at the railway station. Although, that didn't stop a smug look on Tom's face peering back at Charley as he looked on.
What happens in episode five?
The Larkins prepare for Ma's sister Bertha's visit and word spreads around the village that Tom may be cutting down the village's famous tree, Spreading Linda, to make space for his new hotel. Edith organises a village meeting to discuss it.
Meanwhile, there's tension between Mariette and Charley as his jealousy grows of her relationship with Tom and he decides that he will leave the village.
Brigadier invites Charley to stay with him after discovering that he is finding it hard to live with the Larkins due to his complicated relationship with Mariette.
Bertha's visit gets off to a rocky start and her obnoxious attitude doesn't bode well with the Larkins.
Tom takes Mariette for a drive in the country, and they chat about their futures, until Tom's car breaks down and they're forced to call Pop for help.
During the family meal, Primrose reveals that Victoria sabotaged Tom's car because they prefer Charley to Tom and Brigadier's sister, Miss Chand, is not happy about Charley staying with them.
Tom defends his building plans at the village meeting and is supported by Alec and Norma, but when Pop attempts to confront Tom, it doesn't go well.
The meeting soon riles up some of the villagers and later on, Pop and Ma are nervous that their attempts to preserve the village will fail, but they soon come up with a plan to save the legendary tree.
Pop gets to work on the plan to win over the Vicar as well as the other residents. Meanwhile, Tom makes Mariette the manager of his new hotel in hopes to stop her leaving the village.
Pop discovers that Alec has paid off the Vicar and gives the Vicar more money to change his vote, while Ma has had enough of her sister's boasting and decides to challenge her to a car race.
Charley's plans in charming Mariette are soon destroyed and he's left feeling defeated. Tom is up to some sneaky tricks as he has also paid off the Vicar to get him to vote for his building plans.
When Primrose asks the District Council to see all of the planned building works in the village she finds out that Tom has been deceiving everyone and is planning to build much more than just a hotel.
Ma and Bertha have a heart-to-heart and rekindle their relationship and Pop interrupts the Parish Council meeting saying that they need to delay the vote due to bribery. Soon after, Primrose storms into the meeting with the stolen development plans and convinces the council to vote against the plans.
Charley goes to the Larkins, eager to tell Mariette how he feels, but they're stunned to find out that she's left with a suitcase and passport.
What happens in episode six?

The Larkins rush to the train station to find Mariette and try to convince her to stay for a proper send-off. Victoria takes Mariette's passport and runs off.
Mariette decides to stay and Pop gets an offer to buy Bluff Court once again after Tom refuses to buy it as he didn't get the planning permission he wanted.
Ma and an unknown man look shifty as Ma sneaks into his home.
The Vicar, Alec, and Norma are unimpressed when Pop flirts with newcomer Angela Snow, who asks where the police station is so that she can show them her license after she was caught speeding. Pop invites her to the cocktail party on Saturday.
Pop pays Edith a visit, saying he's worried about her, and invites her to help with the donkey derby. They kiss and Edith is ecstatic.
Norma spots Ma feeding a baby through a window and Charley declares his love for Mariette at the stables. Unfortunately, his love doesn't seem to be enough as Mariette still wants to leave, saying the words, "And if you really love me, you'll let me go."
Norma begins gossiping about the Larkins to Miss Chand and they both question who the secret baby could belong to. Primrose overhears the gossip and relays it back to the other Larkin children.
Suspecting something's up, Ma asks Primrose what's wrong and she soon tells Ma what people have been saying, but Ma laughs and brushes it off.
The Larkins go to extreme lengths to convince Mariette to stay and Ma returns to the man's house where the secret baby is. We find out that the baby's name is Oscar and Seth and Aunt Fan are struggling to cope with him.
We discover that Oscar belongs to Seth's daughter, Hattie, who has got into some trouble, and Oscar's father has run away. Seth is determined to keep the baby a secret, as he doesn't want the village to know that his daughter has had "a wobble." Meanwhile, Alec, Pauline, and the Vicar begin to suspect that the baby belongs to Mariette.
Seth receives a postcard from his daughter saying she's not coming back and they offer for Ma to adopt Oscar and Ma agrees to look after him for a while until Hattie gets better and returns.
Pop also agrees to buy Bluff Court off Lady Rose and Sir George, and Ma tells the shocking news to Primrose and Mariette that "we might be having another baby" after they see Charley cradling Oscar.
The residents attend the Larkins Gymkhana and Charley gets competitive once he sees a smug Tom storm through the equestrian course with flying colours. Determined to beat Tom, Charley attempts the course but fails. He's applauded for his efforts and Mariette kisses him.
But a jealous Tom soon ruins the moment by blurting out the rumour that Mariette has a secret baby. Charley is furious and they both fight.
The villagers go to the Larkins cocktail party and Pop and Ma offer some of the Bluff Court land to Mariette to do whatever she wants with it. But she rejects it.
Pop and Ma make the announcement about baby Oscar at the party and the next day, Mariette and Charley journey to Paris together.
Is there a trailer?
Yes, a trailer for The Larkins is now available! It gives us a glimpse of loved up Ma and Pop Larkin, played by Joanna Scanlan and Bradley Walsh, and their large family including Sabrina Bartlett's Mariette who is stuck in a love triangle between two neighbours.
Can we watch the original series on demand?
Yes, The Darling Buds of May is available, among other places, on Amazon Prime (opens in new tab)and BritBox. So if you want a rewatch or you're completely new to the series, all episodes are available on there for you to enjoy.
Thank you for signing up to Whattowatch. You will receive a verification email shortly.
There was a problem. Please refresh the page and try again.