'The Larkins' — release date, cast, plot, trailer and all you need to know
'The Larkins' is based on H. E. Bates' iconic novel The Darling Buds of May.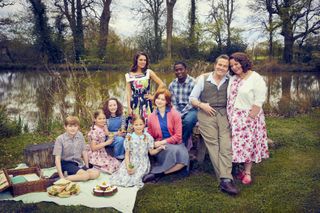 (Image credit: ITV)
The Larkins is an exciting new ITV adaptation of the much-loved novel The Darling Buds of May, which was famously turned into a series starring David Jason, Pam Ferris, and future Hollywood star Catherine Zeta-Jones.
The new series is written by The Durrells screenwriter Simon Nye, and he said: "The novels are short, hilarious and magical. We will be expanding the Larkins' world a little and can't wait to immerse ourselves in this glorious countryside idyll."
The last adaptation was 30 years ago, and ITV has teased that The Larkins aims to capture "the warmth, optimism and escapism of The Larkin family for a modern generation". With the original Darling Buds of May being such a successful series for ITV, hopefully the modern adaption will be just as well received.
There's even going to be a Larkins Christmas special to enjoy!
Here's everything we know about The Larkins so far...

'The Larkins' release date
The Larkins started on Sunday Oct.10 at 8pm on ITV and the first episode is available on the ITV Hub. The third episode airs on Sunday Oct. 24 at 8pm on ITV.
What is 'The Larkins' about?
The Larkins is set in the 1950s and follows a working-class family led by "golden-hearted wheeler-dealer" Pop Larkin and his wife Ma. The couple has six children including the beautiful Mariette, who the series focuses on as we discover her romance with village newcomer Cedric "Charley" Charlton. Charley initially comes to the village to investigate the Larkins' tax affairs but soon gets distracted!
Each member of the family has a strong work ethic and a disinterest in authority, which makes for plenty of laughs and drama across the series.
Who is in the cast of 'The Larkins'?
Bradley Walsh
The Chase's own Bradley Walsh will play Pop Larkin in The Larkins. Bradley will be taking on the iconic character last played by David Jason. In a statement, he said: "I'm thrilled to be asked to be part of this much loved and iconic series of stories. The warmth and affection that H. E Bates has generated through his books is so uplifting and I cannot wait to be part of the Larkin family. It'll be a hoot!"
Speaking of his character, Bradley added: "I live in the countryside in Essex, and I know about three or four Pop Larkins! He's the sort of bloke who, if you were sitting on your own in the pub, would say: 'Do you want to come and join us?' Where his money comes from, who knows? He's a wheeler-dealer, but not in the sense where you wouldn't buy a car off him!"
Bradley's son Barney Walsh will be playing the role of PC Harness, reuniting the duo on-screen following the success of their ITV series Bradley & Barney Walsh: Breaking Dad.
Joanna Scanlan
Meanwhile, Joanna Scanlan will star opposite Bradley as Ma Larkin, and said: "What better comfort could there be from all we have endured this year than the rolling laughter and outsize hugs of Ma and Pop? It's going to be an honour to help bring The Larkins to the nation's devices!"
Speaking of Ma and Pa Larkin's relationship, Bradley added: "Pop's relationship with Ma is that they've known each other since they were kids, and they've grown up together, they have exactly the same ideals, the same values, the same ambitions, and the same aspirations, they love their family life, they love the farm life and they love life."
Sabrina Bartlett
Bridgerton star Sabrina Bartlett will play the couple's daughter Mariette, the same role that made Catherine Zeta Jones a household name.
Tok Stephen
Grantchester's Tok Stephen is set to play Cedric "Charley" Charlton in the new adaptation.
Other confirmed cast includes Peter Davison (the Vicar), Kriss Dosanjh (Brigadier), Amelia Bullmore (Miss Edith Pilchester), Seeta Indrani (Miss Chand), Robert Bathurst (Johnny Delamere), Stephen Hagan (Tom Fisher), Francesca Waterworth (Libby Fothergill), Tony Gardner (Alec Norman) and Selina Griffiths (Norma Norman).
There's also additions to the Larkins family, including Lydia Page (Primrose Larkin), Liam Middleton (Montgomery Larkin), Lola Shepelev (Victoria Larkin), Davina Coleman (Zinnia Larkin) and Rosie Coleman (Petunia Larkin).
What happens in episode one?
The first episode sees a buzz in the village for the May Day Fair.
Pop Larkin approaches the Vicar, and the snobby Norma and Alec Norman outside the pub. Alec demands that Pop move his "ugly vehicle" as it's obstructing his sports car.
Pop discovers that the Master of Hounds, Ralph Fortescue, has resigned, taking his land with him.
Pop's 13-year-old son Montgomery attempts to move Pop's pickup but with disastrous consequences.
The Brigadier turns up at the Larkin's home, concerned that they want to appoint Alec Norman as Master of Hounds, branding him an "utter rogue."
The Larkins' lively spirit was soon cut short when Mariette drops some bombshell news that she wants to move to Paris, which worries the Larkin family and they soon begin thinking of ways to convince her to stay.
While Mariette drops her sisters off at school, sparks fly between her and newcomer Tom Fisher.
Ma approaches Norma at the shop where she overhears her discussing that she wants to nominate her husband, Alec for the role of Master of Hounds because he's the right caliber of person and that there's "not many men of caliber in the village." Norma laughs at Ma's mention of nominating Pop as Master of Hounds, saying "He'll never be Master because he's common. And there are rumours he can't read."
To earn more respect, the Larkins come up with a plan to buy a Rolls-Royce — and Pop knows just where to get one. He recruits Victoria and Montgomery to come with him to actor Johnny's house where he has an old Rolls-Royce in need of some serious work.
The Larkin's soon get to work on the Rolls-Royce and Montogomery paints the family's coat of arms on the side, which thoroughly impresses the Vicar, who Ma tells him that they're technically nobility now since the car came with an earldom. She then pulls out a book from the car saying that Pop's must have left it in there and that he can't get enough of reading.
The May Day Fair arrives and the Larkin's soon trick Alec at the charity auction, who throws some harsh insults at the family and loses his right to become Master of Hounds. After the Vicar offers the position to Pop, he kindly rejects it, and so does Ma, but instead tells him that Brigadier should do it.
But, it's not long before the taxman, Cedric 'Charley' Charlton arrives at the Larkins' home, where he instantly takes a shine to Mariette.
What happens in episode two?

After they invite Charley the taxman into their home, Charley's attempts at finding out the Larkins tax affairs goes wrong when they shower him with alcoholic beverages (as well as their charm and wit), which results in Charley getting drunk and having to stay the night after missing the last train home.
The Larkins are hopeful that he would be good for Mariette and may convince her to stay home.
Charley returns to tell him that he's opening an investigation into their tax affairs, so Mariette decides to try and use his affections to woo him by offering to talk about the family business while they go for a walk in the woods. Meanwhile, Pop wants to buy Lady Rose's mansion and word soon spreads around the village.
Mariette flirts with him as he changes out of her pyjamas he was wearing from the night before and they have a small heart-to-heart about their lives while they lie down together in a field.
Pop is concerned when Mariette invites Charley over for dinner, but she reassures him that it would be an opportunity to convince him how "poor and honest" they are.
Alec Norman turns up at Charley's room telling him the news that Pop has bought a mansion with several thousand pounds worth of cash and that Pop is "a wide boy and a leech."
An angry Charley tells them what he's heard and refuses to come in for dinner, realising that Mariette was distracting him from Pop's dodgy dealings and Mariette is left fuming later after she confronts Charley.
Brigadier and Edith attempt to win Charley over by praising Pop's kindness and generosity when helping the community with money.
Charley apologises to the Larkins, saying that they give away more money off their own back than they would in tax, and offered to help them with their tax problems.
The community watch the village's Straw Man Race while Pop confronts Alec about his tax evasions with the help of Charley.
Charley decides to stay with the Larkins for a while longer.
Is there a trailer?
Yes, a trailer for The Larkins is now available! It gives us a glimpse of loved up Ma and Pop Larkin, played by Joanna Scanlan and Bradley Walsh, and their large family including Sabrina Bartlett's Mariette who is stuck in a love triangle between two neighbours.
Can we watch the original series on demand?
Yes, The Darling Buds of May is available, among other places, on Amazon Prime and BritBox. So if you want a rewatch or you're completely new to the series, all episodes are available on there for you to enjoy.
Get the latest updates, reviews and unmissable series to watch and more!
Thank you for signing up to Whattowatch. You will receive a verification email shortly.
There was a problem. Please refresh the page and try again.