The Chemistry Of Death — release date, cast, plot, trailer, first looks, interviews and all about the crime thriller starring Harry Treadaway
The Chemistry Of Death on Paramount Plus is a British thriller that sees a former police consultant turned doctor called back into action after a grisly murder.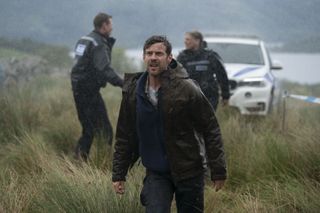 (Image credit: Paramount Plus)
The Chemistry Of Death on Paramount Plus will be bringing the 2006 crime thriller by author Simon Becket (opens in new tab)t (opens in new tab)to life. Penny Dreadful actor Harry Treadaway step into the shoes of forensic anthropologist Dr David Hunter. He was once a renowned police consultant but has made a new life for himself as a GP in the tranquil English countryside. But when it becomes clear that there's a brutal killer in the area, David finds himself called upon to help.
The series also stars Amy Nuttall, Nick Blood and Katie Leung. and here's everything we know si about The Chemistry Of Death on Paramount Plus…
The Chemistry Of Death release date
The six-episode series The Chemistry Of Death will premiere on Paramount Plus in the UK from Thursday January 19 2023, having premiered in the US on January 12.
The Chemistry Of Death is part of a new slate of projects for Paramount+, including a Sexy Beast prequel series, an adaptation of A Gentleman in Moscow starring Ewan McGregor and Rabbit Hole starring Kiefer Sutherland.
Is there a trailer for The Chemistry Of Death?
Yes Paramount Plus has released an official trailer for The Chemistry Of Death which shows Harry Treadaway's Dr David Turner inspecting some grisly-looking skeletons and telling us about his gruesome work. Do take a look below...
The Chemistry Of Death plot
After a devastating personal tragedy, forensic anthropologist Dr David Hunter turned his back on his past as a police consultant and started a new life as a country GP. He hoped his past would stay buried but when the bizarrely mutilated body of a young woman is found in the woods, he's asked to help the police find the killer. Initially David is reluctant to step back into that world but then another woman disappears and everyone in the small community finds themselves under suspicion. As the community begins to tear itself apart, David know he'll have to call upon all his knowledge and expertise to find the twisted mind behind the killings.
The Chemistry Of Death cast — Harry Treadaway as Dr David Hunter
Harry Treadaway plays the forensic anthropologist running away from his traumatic past. He played Victor Frankenstein in the series Penny Dreadful and Roddy Llewellyn in The Crown. He's also starred in Star Trek: Picard, Deceit, Mr. Mercedes and Truckers. He is the twin brother of actor Luke Treadaway.
Who else is starring in The Chemistry Of Death
Here's a rundown of the other cast inThe Chemistry of Death and their characters...
Grace Strachan
Amy Nuttall
Downton Abbey and Emmerdale star Amy Nuttall is playing Grace Strachan. Villager Grace has a hard time getting the locals to like her, especially as she's only lived in the area for a few years. She's desperate to ingratiate herself into the community but often tries far too hard.
Michael Strachan
Nick Blood
Nick has starred on The Bletchley Circle, The Bill, Babylon, Him & Her, Strike and Close to Me. He plays Grace's husband Micheal who wants to play a key role in the community and is always keen to throw cash around when asked. But he soon sees that money doesn't buy you trust or respect.
Anna Andresen plays Linda Yates
Linda is a friend of the murdered woman and it was her boys who found the corpse. Linda has a volatile relationship with her husband Gary, who clearly has a terrible temper.
Alex Price as Gary Yates
Linda's husband Gary is well known for his combative nature and Dr Hunter is warned by Dr Maitland to tread carefully around him. He's very controlling of his wife.
Katie Leung as Maggie
Maggie is an investigative journalist who is desperate to get to the truth. However, she finds out pretty quickly that the villagers aren't exactly keen to open up to a reporter.
Lucian Msamati plays Dr Henry Maitland
Henry has been the trusted village GP for many years but was involved in a terrible accident that left him in a wheelchair. Realising he'd need some help at the practice he employed Dr Hunter to share the workload.
Jefferson Hall played by Ben Anders
Ben runs a bird sanctuary in the village, where Linda works part-time. He's furious that some of his birds are being poached and has some controversial ways of dealing with the problem.
Jeanne Goursand plays Jenny Krause
Jenny is a teacher at the school that Linda's children Neil and Sam attend. The boys have struggled since finding the dead body and Jenny calls in Dr Hunter to see if he can help.
David Hayman, Douglass Russel, Hardy Kruger Jnr, Samuel Anderson, Stuart Bowman and Neve McKintosh also star.
Interview: Harry Treadaway on playing Dr David Hunter in The Chemistry of Death
What can you tell us about Dr David Hunter?
Harry says: "In some ways David is playing a character when you meet him, he's developed this persona, he has become this village GP, he's run away from his previous life and is doing a pretty good job at being a new person."
What drew you to the role?
Harry says: "What excited me most about the character of David Hunter was his complex history, his backstory, where he had come from at the beginning of the story and how that is revealed during it. That's interesting if you know you're playing someone who is playing someone or if you are trying to get under the skin of someone who isn't necessarily exactly who they are presenting to the world. And through the story finding out the chinks in their armour and in that mask and seeing how he changes and develops throughout the story."
Did you enjoy filming in the Scottish Highlands?
Harry says: "Scotland, the Highlands especially, is absolutely stunning. It's a place I have always wanted to go, and I'd love to go back there for holiday. My favourite location has to be up in Lower Diabeg up in the depth of the Highlands. I love nature. I love being outside. I love walking, so to do scenes up the side of a mountain was great."
Was it tricky to film there though?
Harry says: "Yes, it was a huge effort for crew and production to make that happen, to get up there. It wasn't easy a lot of the time with weather and walking up the sides of mountains in boggy conditions. But I think we got a lot from that because you can't fake that. Some of the scenery up there I'm sure will translate beautifully to screen."
Was it important to remain faithful to the best-selling novels by Simon Beckett?
Harry says: "Obviously, you can't be faithful to every page of the novel so there's bits that have been taken out, there's bits that have evolved into the script. It's been a constant evolving thing and I've enjoyed every day trying to make it as good as possible with Richard (Clarke, the director). It has felt collaborative, we have tried to evolve it as we have gone on and tried to make each scene every day as good as we can and I'm excited for, hopefully, people to enjoy it."
Are you looking forward to viewers seeing the end result?
Harry says: "I'm excited about people seeing it. I haven't seen it yet but I'm looking forward to seeing it. It's been a real process. I know that's an overused thing, but you know you are developing two books into six episodes and that is a lot of material. There's a lot of stuff going on."
Interview: Amy Nuttall and Nick Blood on playing Grace and Michael Strachan
Amy Nuttall and Nick Blood play married couple Grace and Michael Strachan, who join the action later in the series.
"Grace is a very warm, approachable character. Unfortunately, not many people in the community are keen on her because she's not a local and is considered quite a posh newcomer who is kind of taking over and trying to help a little bit too much, which they don't really like," says Amy. "She's just keen to get them on her side but not all is maybe as it seems."
Nick Blood adds: 'Michael is a little bit of a mystery. Him and his wife turned up a few years ago and they've got a lot of money and they've kind of bought their way into the community. He gets very involved in the community and he's invested a lot in the community. Michael likes to think he's the spokesperson for the community although I'm not sure everybody would quite agree with that. He'd just like his wife and him to be fully integrated into the community so he'd just like them to trust him and have faith in him."
Locations and more about The Chemistry Of Death on Paramount Plus
The Chemistry Of Death was filmed over 15 weeks in locations throughout Norfolk and Glasgow in the UK. The novel by author Simon Beckett (opens in new tab)was first published in 2006 and follows the character of Dr David Hunter, who then featured in further crime novels by Simon Beckett.
Get the latest updates, reviews and unmissable series to watch and more!
TV Content Director on TV Times, What's On TV and TV & Satellite Week
I'm a huge fan of television so I really have found the perfect job, as I've been writing about TV shows, films and interviewing major television, film and sports stars for over 25 years. I'm currently TV Content Director on What's On TV, TV Times, TV and Satellite Week magazines plus Whattowatch.com. I previously worked on Woman and Woman's Own in the 1990s. Outside of work I swim every morning, support Charlton Athletic football club and get nostalgic about TV shows Cagney & Lacey, I Claudius, Dallas and Tenko. I'm totally on top of everything good coming up too.
Thank you for signing up to Whattowatch. You will receive a verification email shortly.
There was a problem. Please refresh the page and try again.