'Fear Street' — Everything you need to know about the upcoming Netflix trilogy
Who's ready for a trip to Shadyside's Fear Street?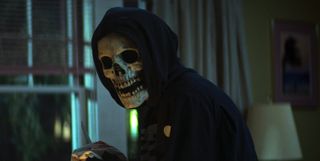 (Image credit: Netflix)
Check out our reviews for the trilogy: Fear Street Part 1: 1994, Fear Street Part 2: 1978, Fear Street Part 3: 1666
R.L. Stine may be best known for Goosebumps, but the horror master had deeper terror up his sleeve. Once we were all introduced to horror through the kid-focused Goosebumps books, Stine's Fear Street saga was waiting to scare the pants off of a bunch of unsuspecting teens. Now, Netflix will bring those creeps to life with their upcoming Fear Street trilogy. The films will air three weeks in a row, one after another will follow a group of teenagers who stumble upon an ancient evil that's haunted their town for century.
Fear Street promises to be quite the event! Here's everything you need to know.
When will the 'Fear Street' movies premiere?
The films will air in quick succession, with a new title hitting each week until the trilogy completes. Here's the breakdown:
Fear Street Part 1: 1994 will air July 2nd, 2021
Fear Street Part 2: 1978 will air July 9th, 2021
Fear Street Part 3: 1666 will air July 16th, 2021
All three titles will hit Netflix at 12AM PST.
Check out the trailer for all three impending spooks.
What are the Fear Street movies about?
The Fear Street trilogy features three films that will span over 300 years. They'll work backwards in time, with the Part 1: 1994 kicking things off. Part 2 will take place in 1978, with Part 3 taking us all the way back to 1666. The teens of Shadyside High will have to reconcile with the 300-year-old evil that started plaguing their town centuries ago, and they'll be all on their own while they do.
Said evil revolves around Sarah Fier's curse. She wasn't the only Fier thought to be plagued with evil, though. The townsfolk of Shadyside believed the entire family to be a pox on the town because their name could be rearranged to spell "fire." Simon Fier, the former patriarch of the family, changed their name to "Fear" in the 19th century.
Here's the official synopsis of the trilogy from Netflix:
In 1994, a group of teenagers discover the terrifying events that have haunted their town for generations may all be connected — and they may be the next targets. Based on R.L. Stine's best-selling horror series, Fear Street follows Shadyside's sinister history through a nightmare 300 years in the making.
Who's in the Fear Street movies?
Olivia Scott Welch as Samantha Fraser
Gillian Jacobs as C. Berman
Sadie Sink as Ziggy Berman
Charlene Amoia as Rachel Thompson
Ashley Zukerman as Sheriff Nick Goode
David W. Thompson as Ryan Torres
Fred Hechinger as Simon
Kiana Madeira as Deena
Emily Brobst as Billy Barker
Emily Rudd as Cindy Berman
Benjamin Flores Jr. as Josh
Darrell Britt-Gibson as Martin
Jeremy Ford as Peter
Julia Rehwald as Kate
Matthew Zuk as Mayor Will Goode
Alex Huff as Mean Sunnyval Jailer
Jana Allen as TV Reporter
What do your critics think of Fear Street?
In her review for Fear Street Part 1: 1994, Amelia Emberwing said:
Fear Street is young adult fare, but this ain't your momma's PG-13 slasher. You will see people shot, stabbed, mutilated and sliced from start to finish in this first entry. Because it's aimed at that younger audience, some viewers might expect the camera to pull away from the gore. Those viewers would be wrong. R.L. Stine's "Fear Street" novels aimed to reach — and terrify — the demographic that had grown out of "Goosebumps." Like his original saga, the first third of this new trilogy seeks to remind you that high school really can kill you.
Fear Street Part 2: 1978 took a little bit of a dip from the incredible Fear Street Part 2, but was still an engaging watch:
Sequels are hard. While Fear Street Part 2: 1978 most certainly slumps in ways that Fear Street Part 1: 1994 was largely immune to, it still manages to be a pretty fun ride. It may not be a better film than predecessors like Friday the 13th, but it most certainly makes you care about its protagonists in way the classic franchise often failed to. That saving grace alone is enough to give Fear Street Part 2 a hearty recommendation, but there's more to this little sequel that could as well.
As for Fear Street Part 3: 1666, well let's just say she really enjoyed this one:
Fear Street Part 3 is the perfect ending to the story Leigh Janiak and company set out to tell. Impactful, satisfying, with just enough potential for more stories to unfold in the universe. We know that successful properties will continue to expand in today's world of adaptations, and the Fear Street saga has been exciting enough that we can't wait to see what they do next. Until then, this first trilogy has been everything we wanted and more.
Amelia is an entertainment Streaming Editor at IGN, which means she spends a lot of time analyzing and editing stories on things like Loki, Peacemaker, and The Witcher. In addition to her features and editorial work, she's also a member of both the Television Critics Association and Critics Choice. A deep love of film and television has kept her happily in the entertainment industry for 7 years.
Thank you for signing up to Whattowatch. You will receive a verification email shortly.
There was a problem. Please refresh the page and try again.