It Ends With Us: everything we know about the Colleen Hoover movie
Blake Lively and Justin Baldoni will bring the popular novel to life.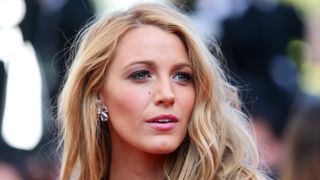 (Image credit: Vittorio Zunino Celotto / Staff)
Colleen Hoover's bestselling novel It Ends With Us is coming to the big screen with Blake Lively (The Age of Adaline) and Justin Baldoni attached as its stars. Hoover will consult on the project, and Baldoni will also direct the movie from a script by Christy Hall.
The movie was initially optioned by Baldoni and his production company, Wayfarer Studios in 2019. It Ends With Us was an instant hit among readers, residing on the New York Times Bestseller List for over 90 weeks and generating over 2 billion views on TikTok.
Here's what we know about It Ends With Us.
It Ends With Us release date
There's no projected release date for It Ends With Us at this point. Given that the project was just announced, it has yet to begin filming and that means it will be a while before we know when it will be released. That said, as soon as we have a release date for the US and the UK, we'll add it here.
It Ends With Us cast
Blake Lively has appeared in a number of films and shows including Gossip Girl, The Age of Adaline, The Shallows and A Simple Favor. Lively made a big splash in her directorial debut, bringing Taylor Swift's 2021 music video "I Bet You Think About Me" to life. She earned two ACM Award nominations as well as a Country Music Association nod. Her next turn behind the camera will mark her feature film debut with the adaptation of Bryan Lee O'Malley's graphic novel Seconds.
Baldoni might be best known for his role as Rafael Solano in Jane the Virgin from 2014 to 2019. He also had guest appearances in Madam Secretary as well as recurring roles in The Bold and the Beautiful, Everwood and Single Ladies.
The rest of the cast has yet to be announced.
It Ends With Us plot
It Ends With Us is the story of a young woman named Lily who falls for a brilliant neurosurgeon named Ryle. Lily is starting a new life in Boston after graduating college and leaving home to escape the memories of the abuse her father inflicted upon her mother. Though he's recently deceased, Lily's mother never told her about the abuse and the secret drove a wedge between them.
Ryle doesn't want a relationship but eventually, the pair settle into a relationship anyway after they continue to see each other. Things go well between them until Ryle pushes Lily to the ground after she laughs at him. When she reconnects with her childhood love Atlas, Atlas suspects that Ryle is abusing her.
Lily goes on a journey of discovery as she understands more about what her mother went through while also making decisions to end the cycle of abuse once and for all.
It Ends With Us trailer
It's too early for a trailer for It Ends With Us, as the movie has yet to begin production. However, as soon as the trailer is available, we'll drop it in right here.
It Ends With Us director
It Ends With Us star Justin Baldoni will pull double duties, both starring in and directing the film. Baldoni is no stranger to being behind the camera. He directed Clouds and Five Feet Apart. He's also a Webby-nominated podcaster for his podcast, The Man Enough Podcast, and he is the author of Man Enough: Undefining My Masculinity and the New York Times bestseller Boys Will Be Human.
Get the What to Watch Newsletter
The latest updates, reviews and unmissable series to watch and more!
Editorial Content Producer
Sarabeth joined the Watch to Watch team in May 2022. An avid TV and movie fan, her perennial favorites are The Walking Dead, American Horror Story, true crime documentaries on Netflix and anything from Passionflix. You've Got Mail, Ocean's Eleven and Signs are movies that she can watch all day long.
When she's not working, Sarabeth hosts the My Nights Are Booked Podcast (opens in new tab) and blog (opens in new tab) dedicated to books and interviews with authors and actors. She also published her first novel, Once Upon an Interview (opens in new tab), in 2022.