Redemption: release date, cast, plot, trailer, episode guide, interviews and all about the crime thriller
Redemption on ITV1 stars Paula Malcomson as a detective searching for the killer of her estranged daughter.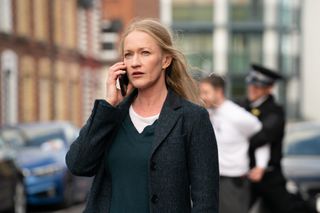 (Image credit: ITV)
Redemption is a gripping ITV1 and ITVX thriller about estrangement, redemption and second chances, which features a gritty storyline and a top female cast including Paula Malcomson, Siobhan McSweeney and Thaddea Graham.
The six-part ITV1 series comes from the producers behind The Bay and follows DI Colette Cunningham, who takes the law into her own hands on a dangerous mission to find the truth behind the mysterious death of her estranged daughter.
Created by Sean Cook (Holby City, The Last Ship, The Code), here's everything you need to know about Redemption arriving on ITV1…
Redemption release date
Redemption is a six-part series that starts on ITV1 on Friday, March 17 at 9pm. Episodes will also become available to watch on the streaming service ITVX. We'll update you with any US or international scheduling news.
Is there a Redemption trailer?
Yes there's Redemption trailer which teases the twists and turns of the gripping thriller. Take a look below...
What is the plot of Redemption?
Redemption follows 50-something Liverpool detective Colette Cunningham, whose life is upended when the body of her estranged daughter, Stacey, is found in Dublin following a suspected suicide. Having not seen Stacey since she went missing as a teenager, Colette decides to move to the Irish city to take a job with the Garda and care for the two grandchildren she never knew existed. But as she digs into the last months of Stacey's life, she begins to suspect her daughter was murdered and goes on a dangerous mission to uncover the truth.
Redemption cast — Paula Malcomson on playing DI Colette Cunningham
Paula Malcomson stars as dedicated detective Colette Cunningham, who's coming to terms with the sudden death of her long-lost daughter.
"I've always wanted to play a cop and I particularly love that the drama is about a woman in her 50s who has been there and done it," says Paula.
"Colette is essentially investigating not just her daughter's death, but also her life as well, a life that's completely unknown to her. She knows she is messing with the wrong people and she's up to her neck in danger, but she can't help herself. She has an absolute need to solve her daughter's murder and do the right thing by her. It becomes everything to Colette.
"Her estrangement from her daughter slowly gets revealed. Colette hasn't seen or heard from her daughter in 20 years and there's this sense that Colette has spent that time dedicated to the pursuit of being the best cop she can be. But there's this kind of boxed off part of her and that's the story, it's this unveiling of her feelings. She's a survivor, but there's a great deal of regret and recrimination, and I think that plays into who she is now. So we learn more about the breakdown of their relationship as we go, and Colette is essentially investigating not just her daughter's death, but her life as well, a life that is completely unknown to her. She's getting to know somebody who isn't there, and that was really fascinating to me.
"Colette walks into her daughter's home and looks at all the wee things that define her taste, where she may have travelled, what she was reading. The things that are left behind when someone dies are so beautiful, and it's all the more poignant because this is someone she didn't ever discuss these things with – she didn't know her as a fully formed adult. It's so beautiful, the opportunity to dwell on this kind of grief and regret."
* Paul Malcomson is best known for playing Abby Donovan in Ray Donovan and Mrs Everdeen in The Hunger Games franchise. She's also had roles in ER, Sons of Anarchy and Deadwood.
Keith McErlean on playing Patrick Fannon
In Redemption, Keith McErlean is playing Colette's trusted friend Patrick Fannon...
What appealed to you about the role of Patrick?
Keith says: "This is a really harrowing tale about a woman, Colette, who is estranged from her daughter. Patrick is a trusted friend and confidante, someone that Colette can confide in.He's an interesting character because he's prepared to bend the rules and fracture an occasional law if it ultimately means solving the case. It's a dream part for me, having the opportunity to work with Paula Malcolmson, Thaddea Graham and Siobhan McSweeney, who are three incredible actors. We all had very different approaches to the work, but we found our common ground and gelled very fast."
How did you and Paula develop the relationship between Patrick and Colette?
Keith says: "We had a few days of rehearsal before we shot, which was a lovely luxury, and it gave us the chance to bore into these characters and discuss the scenes in detail. We worked really hard together, and there was good chemistry between us. It's a police procedural drama, but we still needed to find something real to tether these characters to, to ground them – it's not just cops investigating crime. We had an opportunity to do something else in this show, and when these characters talk about their personal lives it makes them more human, and gives the whole drama much more gravitas and weight. Patrick and Colette are similar, not just in terms of age, but they're also estranged from their children. Patrick mentions very briefly that he has a son he doesn't see enough of, so he understands and sympathises with Colette's situation very much. I think Colette realises that too, so there's a real comfort and ease between them."
How does Patrick feel about keeping Colette's secrets?
Keith reveals: "She's bending the rules to get answers, but I think Patrick trusts that she is exceptionally good at her job. It's a very personal case for her, he understands that and he's just trying to help her in whatever way he can. He does find himself in a difficult position, because the organised crime team are married to their theory, with no emotional connection to this case, so they are writing off Colette's daughter's death as a suicide from the beginning. Patrick will do whatever he can to help her out because he knows there's something suspicious going on around this death.
How much research did you do for this role in Redemption?
Keith says: "There are so many cop shows and murder documentaries now, that we already have a huge basic knowledge of forensic crime, some of us are couch experts. So, I had that background knowledge. But I also have a friend who has worked in the Dublin Metropolitan Police for 30 years, so I could talk to him about Patrick and the situation he finds himself in. I asked him what the risks would be of going behind another team's back, and what would be on the line for Patrick. He was a really valuable resource for this shoot, and I called him a few times so that I could go into certain scenes with confidence."
Who else is starring in Redemption?
As well as Paula Malcomson and Keith McErlean, the cast of Redemption features several familiar faces, including Derry Girls star Siobhan McSweeney playing Colette's new Garda boss DS Jane Connolly and Curfew's Thaddea Graham as fellow cop Siobhan Wilson. Meanwhile, Vikings' Moe Dunford stars as Stacey's charming yet suspicious boyfriend Eoin Molony.
Redemption episode guide (with Spoilers)
Here's our Redemption episode guide which contains a few spoilers so do look away if you want to avoid...
EPISODE 1: Friday March 17, ITV1, 9pm
Liverpool-based DI Colette Cunningham uproots to Dublin when she learns that her estranged daughter, Stacey, has committed suicide. Once there, Colette meets her two teenage grandchildren for the first time. Despite having never known of their existence she's their named guardian. Determined to do right by her daughter in her death, Colette joins the local Dublin Police and cares for the kids. However, not everything about Stacey's life is what it seems, Colette sets out to uncover the truth.
EPISODE 2: Friday March 24, ITV1, 9pm
Confused about her latest discovery, Colette heads to the hospital where Stacey worked to speak to those who knew her well in the hope of understanding her daughter better. As she pieces together an image of Stacey and her life, something doesn't quite add up about her daughter's final days. At home, Colette's grandparenting skills are tested as she adjusts to living with Liam and Cara.
EPISODE 3: Friday March 31, ITV1, 9pm
A visit fromOrganised Crime confirms Colette's suspicions that there's more to Stacey's death than suicide and that Stacey's boyfriend is more than the charming man he appears to be. Colette starts to piece together fragments from Stacey's home and work that point to one person knowing more than they are letting on. After successfully closing a case, Colette joins her team at the pub for a drink. At home, however, Colette rocks the boat with Cara and has to tread carefully to make amends.
EPISODE 4: Friday April 7, ITV1, 9pm
After a charged confrontation, Colette's all but convinced Stacey was murdered but is resolved that she needs firm evidence before she can involve any of her colleagues. Meanwhile, Siobhán and Colette's case develops from a simple theft to something far more sinister that's not so easy to resolve. At home, things appear to be improving until Liam shares a secret that blindsides Colette. To make matters worse, someone from Stacey's past reappears and threatens Colette's new life in Dublin.
EPISODE 5: Friday April 14, ITV1, 9pm
Colette works a case that brings her into contact with someone who knew Stacey, opening up a new lead. Looking into Stacey's last calls, Colette uncovers an unknown number that belongs to someone much closer to the family than she expected. What was Stacey doing on that final night and where was she going in her final hours? Meanwhile, Colette struggles to adapt to the addition of Liamand Cara's father as he bids for guardianship.
EPISODE 6: Friday April 21, ITV1, 9pm
A suspect firmly on her radar, Colette is determined to find out the truth. With the help of Patrick and Siobhán, Colette finally gets evidence to corroborate what she's always suspected: Stacey didn't kill herself. However, things take an unexpected turn when she discovers the house ransacked and Cara missing. Colette must think quickly as time runs out to uncover the truth behind Stacey's death and save Cara.
Get the What to Watch Newsletter
The latest updates, reviews and unmissable series to watch and more!
TV Content Director on TV Times, What's On TV and TV & Satellite Week
I'm a huge fan of television so I really have found the perfect job, as I've been writing about TV shows, films and interviewing major television, film and sports stars for over 25 years. I'm currently TV Content Director on What's On TV, TV Times, TV and Satellite Week magazines plus Whattowatch.com. I previously worked on Woman and Woman's Own in the 1990s. Outside of work I swim every morning, support Charlton Athletic football club and get nostalgic about TV shows Cagney & Lacey, I Claudius, Dallas and Tenko. I'm totally on top of everything good coming up too.