White House Plumbers: episode guide, UK release date, fact vs fiction, cast, plot, interviews and all about the Watergate break-in drama
White House Plumbers is an HBO and Sky Atlantic drama about the Watergate break-in starring Justin Theroux, Woody Harrelson, Lena Heady,and Judy Greer.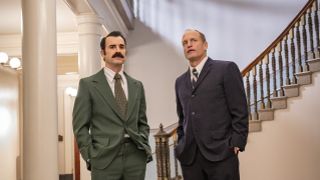 (Image credit: Courtesy of HBO)
White House Plumbers is on HBO and Sky Atlantic and focuses on the real-life burglary of the Democratic National Committee HQ in the Watergate Hotel in 1972, that led to the downfall of President Nixon.
While other dramas and movies about Watergate have focused on The Washington Post reporters Carl Bernstein and Bob Woodward and the ensuing political fallout from the incident, this one takes a closer look at the criminal men who carried out the burglary itself, nicknamed 'The White House Plumbers'.
Justin Theroux plays G. Gordon Liddy, an attorney and former FBI agent who was assigned to the White House Special Investigations unit known as 'The White House Plumbers'. Woody Harrelson plays his colleague, retired CIA officer E. Howard Hunt who along with Liddy organized the Watergate burglary. Lena Headey and Judy Greer play their wives.
"In most of the Watergate movies ever made, basically the burglary is the opening scene," says series director David Mandel. "You see flashes of the burglary, and then it's people in the Oval Office, Nixon, and the reporters at The Washington Post. This is a limited series where it is 100 percent about the burglary. We're going to meet these guys before the burglary, and we're going to see the effects of the burglary on their lives. This is the story that none of these other stories bothered with, to some extent."
So here's everything you need to know about White House Plumbers on Sky Atlantic and HBO...
When is the UK release date for White House Plumbers?
In the UK, White House Plumbers starts on Tuesday May 30 at 9pm on Sky Atlantic. It's a five-episode series running weekly in the UK every Tuesday at the same time and also available as a box set from that day on Sky Box Sets and NOW.
* All episodes of White House Plumbers have now been shown in the US on HBO with the final instalment on Monday May 29 2023.
Is there a trailer for White House Plumbers?
Check out the official trailers for White House Plumbers directly below for both HBO and Sky Atlantic, which shows that the men that carried out that Watergate break-in may not have been the brightest bulbs...
White House Plumbers plot
White House Plumbers is based partly on public records and the book Integrity by Egil 'Bud' Krogh and Matthew Krogh. The show follows the two political saboteurs and Watergate masterminds E. Howard Hunt (Harrelson) and G. Gordon Liddy (Justin Theroux). It delves into their backstories and shows how they came to be behind the 1972 burglary of the Democratic National Committee HQ that was eventually traced back to President Nixon's administration. It shows how the pair accidentally brought down the very presidency they had been trying to protect.
Here is the official plot synopsis from HBO: "White House Plumbers tells the story of how Nixon's own political saboteurs and Watergate masterminds, E. Howard Hunt (Woody Harrelson) and G. Gordon Liddy (Justin Theroux), accidentally toppled the presidency they were zealously trying to protect."
White House Plumbers fact vs fiction episode guide
Here is the official synopsis for White House Plumbers episodes and links to our Fact vs Fiction pieces for them:
White House Plumbers episode 1, "The Beverly Hills Burglary"
"A year before the infamous Watergate break-in, E. Howard Hunt and G. Gordon Liddy are tasked with investigating the Pentagon Papers leak, gathering a team of Cubans - all Bay of Pigs veterans - to infiltrate whistleblower Daniel Ellsberg's psychiatrist's office. Meanwhile, Hunt and his wife Dorothy get to know the Liddys." Read WTW's Fact vs Fiction: White House Plumbers episode 1 piece.
White House Plumbers episode 2, "Please Destroy This, Huh?"
"While Hunt and Dorothy entertain Liddy and his wife Fran at their exclusive country club, their kids Lisa and Saint John paint a less-than-perfect portrait of the family. Later, on the outs with Nixon's Attorney General John Mitchell, Hunt and Liddy get a chance to redeem themselves when a leaked memo from Dita Beard puts Mitchell and the administration in legal jeopardy." Read WTW's Fact vs Fiction: White House Plumbers episode 2 piece.
White House Plumbers episode 3, "Don't Drink the Whiskey at the Watergate"
"Hunt, Liddy, and the Cubans attempt to break into the DNC offices at the Watergate to plant listening devices for the White House." Read WTW's Fact vs Fiction: White House Plumbers episode 3 piece.
White House Plumbers episode 4, "The Writer's Wife"
"Reeling from the arrests at the Watergate, Hunt enlists Saint John's help to dispose of evidence, while Liddy warns the acting Attorney General that the burglaries can be tied back to President. Later, after returning from Paris, a livid Dorothy must take control to protect her family and the Liddys." Read WTW's Fact vs Fiction: White House Plumbers episode 4 piece.
White House Plumbers episode 5, "True Believers"
The conspirators go on trial for Watergate so we learn who cooperated with the prosecution, the punishments handed out to Hunt and Liddy, and what happened to them later in life. Read WTW's Fact vx Fiction: White House Plumbers episode 5 piece.
White House Plumbers cast — Justin Theroux, Woody Harrelson, Lena Heady and Judy Greer
The leading cast for The Watergate Plumbers are...
Woody Harrelson as E. Howard Hunt
Former CIA officer E. Howard Hunt is portrayed by Woody Harrelson, star of Cheers, True Detective, The People vs. Larry Flint and Natural Born Killers. Woody first found fame as lovable Woody Boyd in Cheers from 1985-1993. Since then his career has rocketed and he's been in numerous hit movies and shows including Will & Grace, Zombieland and the Oscar-winning Three Billboards Outside Ebbing, Missouri.
Lena Headey as Dorothy Hunt
Game of Thrones star Lena Headey plays former CIA agent Dorothy Hunt who desperately tries to keep her family together. She played Cersei Lannister in the juggernaut that was Game of Thrones but before that had roles in Soldier Soldier and Band of Gold. She's since appeared in Wizards, Masters of the Universe: Revelation, Fighting With My Family, and Infinity Train.
Justin Theroux as G. Gordon Liddy
Justin takes on the role of former FBI agent G. Gordon Liddy who was tasked with preventing leaks of classified information to the media. Justin starred in the 2001 movie Mulholland Drive and American Psycho before playing Joe in the series Six Feet Under. He was in the 2006 Miami Vice movie plus the hit film The Girl on The Train. Justin was also in the series Parks and Recreation and last year's Apple TV+ drama The Mosquito Coast.
Judy Greer as Fran Liddy
Judy plays Fran, Liddy's unflappable wife who has misplaced faith in her husband's intelligence and abilities. Judy starred in Two and a Half Men, 13 Going On 30, Ant-Man, and Jurassic World. She's also due to appear in The First Lady, coming out this year, which tells the story of the presidents' wives.
Who else is starring in White House Plumbers?
Also starring in The White House Plumbers is Hollywood star Kathleen Turner playing Dita Beard, Mad Men star Kiernan Shipka is Kevan Hunt, Ike Barinholtz is Jeb Magruder, Kim Coates plays Frank Sturgess, Liam James is John Hunt, Jeremy Borgen plays Jim Liddy while Zoe Levin is Lisa Hunt.
Interviews: Woody Harrelson and Juston Theroux give the lowdown on White House Plumbers
White House Plumbers stars Justin Theroux and Woody Harrelson tell us much more about their miniseries that shines a light on what happened…
What were your first thoughts when you heard the story of E. Howard Hunt and G. Gordon Liddy?
JUSTIN: "When we read the story I thought "this is fantastic, it's hilarious and, amazingly, it's true." Everyone knows there was a break in and that's what kicked it off. We sort of know the B side of it, which was Bob Woodward and Carl Bernstein chasing the truth for the Washington Post, but this is way more hilarious than that boring story. It's like "wait a minute, this piece of T-bone steak has been lying on the ground all of this time and no one has touched it!"
What makes their story so perfect for satire?
JUSTIN: "Their plans were so stupid and cockeyed – like breaking in four times - that it naturally wants to go towards comedy more than drama. Their original ideas for a dirty tricks campaign were so crazy and involved things like kidnapping political activist Abbie Hoffman, drugging him and driving him to Mexico! I'm sure there's a dramatic version of it but I think it would be inaccurate.
WOODY And maybe a little boring!"
How would you describe E. Howard Hunt and G. Gordon Liddy?
JUSTIN: "I fell more and more in love with them the more we played them. But again, Liddy was this optimistic shiny penny of a guy and it was sort of fun to play."
WOODY: "I don't like Howard Hunt as a human, as a historical figure, I feel like there were so many terrible things that he was a part of and yet eventually I connected to the relationship to his family and the things that were going on with them. But after we wrapped, I stopped caring about him. He's not a good guy!"
What made them commit these crimes?
JUSTIN: "They'd claim they were patriots acting in the best interests of their country. Patriotism circumvents a lot of moral decisions, when you just say, 'well, the patriotic thing to do is X..' because anyone of any political stripe can say that. But it's a slippery slope when you become too patriotic or nationalistic."
How much of the series is based on real events from the time?
WOODY: "Well all the broad strokes are accurate. Obviously some of the conversations we couldn't possibly know what they actually said, they are going to take liberty with that, but the things that are historical are all accurate."
JUSTIN: "It's all pulled from testimony and it's very well documented what happened."
You filmed at the Watergate building. What did that mean actually being in the place where it all happened?
JUSTIN: "Yes, we stayed there the whole time when we were shooting in Washington. It was great. Apart from the convenience of being able to leave a hotel room and be at work, we had a fantastic art department and set decorators that made it look very period. And there's something about being in the building where the thing happened.
WOODY: "It was kind of cool. It really does add something when you are in the real place - and it has a great bar on the roof!"
The real G. Gordon Liddy and E. Howard Hunt
George Gordon Battle Liddy was an American lawyers and former FBI agent. Alongside intelligence officer E. Howard Hunt he organised and directed the two burglaries of the Democrat's headquarters in the Watergate building in 1972. The pair also carried out other clandestine operations to discredit the Democrats. Liddy served nearly 52 months in a federal prison for his role in the scandal but after his release he became a radio talk show host until he retired in 2012. Hunt served 33 months in prison and then lived in Mexico and Florida until his death in 2007. When it became clear that Richard Nixon had helped cover up the crimes he resigned from office on August 9 1974.
Get the What to Watch Newsletter
The latest updates, reviews and unmissable series to watch and more!
TV Content Director on TV Times, What's On TV and TV & Satellite Week
I'm a huge fan of television so I really have found the perfect job, as I've been writing about TV shows, films and interviewing major television, film and sports stars for over 25 years. I'm currently TV Content Director on What's On TV, TV Times, TV and Satellite Week magazines plus Whattowatch.com. I previously worked on Woman and Woman's Own in the 1990s. Outside of work I swim every morning, support Charlton Athletic football club and get nostalgic about TV shows Cagney & Lacey, I Claudius, Dallas and Tenko. I'm totally on top of everything good coming up too.