UnPrisoned: release date, episode guide, trailer, cast, plot and everything we know about the Kerry Washington series
Washington is flexing her comedic chops in the new show.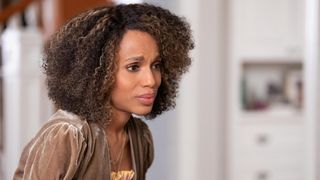 (Image credit: Kelsey McNeal/Hulu)
Kerry Washington is back on the small screen in the new comedy UnPrisioned. While the Scandal actress has won over fans playing the cutthroat political fixer Olivia Pope, she's now portraying a relationship therapist and single mother that is trying to reconnect with her father who was recently released from prison. Joining Washington in this new series as the father is Da 5 Bloods star, Delroy Lindo.
What else can you expect from the new comedy? Keep reading to find out more about UnPrisoned.
UnPrisoned release date
UnPrisoned premiered in the US on Friday, March 10 on Hulu.
In the UK, the series premiered on Disney Plus.
Unprisoned episode guide
Here is an episode guide for the season.
Episode 1: "Repetition Compulsion"
"Straight off a 17-year stint in federal prison, Edwin Alexander crashes back into the lives of his daughter Paige, and her teenage son, Finn, just as Paige is attempting to achieve her lifelong dream of buying her own home."
Episode 2: "How to Be a Main B…"
"Paige moves into her new house, but Edwin complicates her life at every turn, especially her relationship with her boyfriend. Edwin enlists Finn's help to get a job."
Episode 3: "Are You My Mother Wound?"
"Having her dad back in her life forces Paige to confront her 'mother wound.'"
Episode 4: "In Dad We Distrust"
"Paige begins a promising new relationship, but her daddy issues keep threatening to get in the way. Edwin makes a bold decision around making money that will impact the entire family."
Episode 5: "F… Normal"
"Paige just wants to be normal and tries to prove it by hosting a party for a co-worker, but things don't go exactly as planned. Edwin's new business venture turns him into a hero."
Episode 6: "Nigrescene"
"Paige, Edwin and Finn take a trip to their ancestral home in rural Alabama, where there's much more going on than meets the eye."
Episode 7: "Unavailably Available"
"Paige is sent spiraling after getting devastating news on the biggest professional day of her life. Edwin is on the cusp of a big new business venture, but his past is threatening to take it all away from him."
Episode 8: "It's About Who You Want to Be"
"Paige battles her conscience. Finn battles his mother. Edwin battles the system."
UnPrisoned trailer
It's quite refreshing to see Washington in a sitcom. Take a look at the show's fun trailer below.
UnPrisoned plot
Here is the official plot of UnPrisoned:
"Inspired by Tracy McMillan's life, UnPrisoned is a half-hour comedy about a messy but perfectionist relationship therapist and single mom whose life is turned right-side-up when her dad gets out of prison and moves in with her and her teenage son."
On an interesting note, Tracy McMillan has writing credits on shows like Mad Men, Necessary Roughness and Life on Mars.
UnPrisoned cast
Leading the UnPrisoned cast is Emmy-winning actress Kerry Washington. Before becoming a household name with her role in Scandal, she was recognized by millions for portraying Chenille in the 2001 film Save the Last Dance. Additionally, over the years Washington has starred in other projects like Django Unchained, Little Fires Everywhere and The School for Good and Evil.
Joining Washington in UnPrisioned is Delroy Lindo. Lindo has been in Hollywood for decades and starred in movies such as The Harder They Fall, Get Shorty and Malcolm X, and in shows like The Good Fight and Blood & Oil.
Both Washington and Lindo also executive produce UnPrisoned alongside showrunner Yvette Lee Bowser and series creator McMillan.
How to watch UnPrisoned
UnPrisioned is a Hulu Original series. Those interested in watching episodes in the US will need a subscription to the streaming service, which currently offers a few different options for subscribers.
While the series is expected to become available in the UK on Disney Plus, we're still waiting to confirm a UK release date.
Get the What to Watch Newsletter
The latest updates, reviews and unmissable series to watch and more!
Terrell Smith has a diverse writing background having penned material for a wide array of clients including the federal government and Bravo television personalities. When he's not writing as Terrell, he's writing under his pseudonym Tavion Scott, creating scripts for his audio drama podcasts. Terrell is a huge fan of great storytelling when it comes to television and film. Some of his favorite shows include The Crown, WandaVision, Abbot Elementary and Godfather of Harlem. And a fun fact is he's completely dialed into the TLC 90 Day Fiancé universe.