A 'super sexy' acrobat is 'mesmerising' in the last round of Britain's Got Talent auditions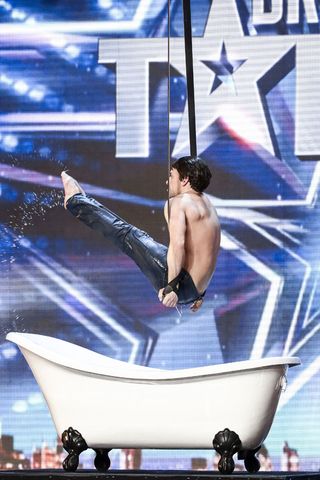 He was far too sexy for a shirt – and acrobat Charlie Placais (opens in new tab) knew it when he took the stage in the final round of auditions for this year's Britain's Got Talent.
Charlie dunked himself in a bathtub and then, dripping wet, threw himself around in a series of aerial acrobatic moves.
"You were mesmerising," judge Alesha Dixon (opens in new tab) told him. "Super sexy. Your upper body strength is incredible."
Charlie takes going for a dip to a whole new level
"I don't even need to ask David what he thought," Simon Cowell (opens in new tab) said and, with Amanda Holden (opens in new tab) enthusiastic agreement, Charlie was through to the next round.
But David Walliams (opens in new tab) hadn't finished with him…
"I need to tell him it's a 'yes' from me!" he shouted and chased Charlie backstage. "Just to say well done, fantastic, brilliant stuff," David told Charlie, giving him a big, lingering hug.
Basketball freestylers Dunking Devils, from Slovenia, also flew around the stage, showing that basketball would have a lot more fans if it was always played their way, with Superman dunking the ball from the air.
They earned a massive round of applause from the audience and the judges but co-presenter Ant McPartlin (opens in new tab) stole a bit of their thunder at the end of their performance by sinking a ball through the hoop from the wings! He raced on stage to celebrate and got a hug from Superman for his amazing effort.
You can see it in the video below.
http://www.youtube.com/watch?v=fzgPQ9DEKTo
Dance group Bollywest Fusion had the judges trying to come up with a new name for their dance style…
"I love Bollywood dancing and the fact that you fused it with hip-hop makes it really fresh," Alesha told them.
"You know what we can call it?" Simon told her. "Boll-Hop."
"Bolly-Hop is better," Alesha told him.
Bollywest Fusion had all the right moves for the judges
Comic magician Christian Lee divided the judges but they all agreed he should reach the next round.
His routine involved a pack of cards, a big balloon, a leaf blower – and some help from Amanda.
It all ended with Amanda joining Christian in a mime of that iconic Titanic "I'm flying" scene with Kate
Winslet and Leonardo DiCaprio.
Magician Christian Lee shared a Titanic moment with Amanda
"You're funny," Simon told Christian, "but I don't think the magic was great."
"I think you're brilliant," David said. "You deserve a much bigger audience."
But will he get one?
The judges then had to choose the 40 acts joining the five Golden Buzzer winners for the live semi-finals.
And we can reveal that the first live semi-final on Sunday night will feature:
100 Voices of Gospel (Alesha's Golden Buzzer act)
Ben Blaque
Darren Altman
Kathleen Jenkins
Mel & Jamie
Richard Bayton
Spartans Resurrection
Total TXS
Ystrad Fawr Dancers
Britain's Got Talent (opens in new tab) continues with the start of the live semi-finals on ITV Sunday, May 22, 7.30pm
Get the What to Watch Newsletter
The latest updates, reviews and unmissable series to watch and more!