Simon Cowell meets his talented namesake on Britain's Got Talent (VIDEO)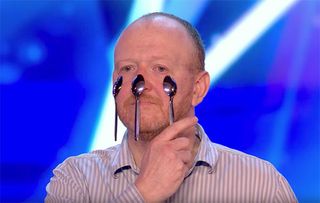 This weekend's BGT will see not one but two Simon Cowells on the show and you won't believe the contestant's talent. Is there enough room on the BGT stage for two Simons?
Can you image two Simon Cowells on BGT? This week you won't have to imagine it, as the show sees a contestant with the same name as the judge try his luck on the BGT stage.
His talent? Balancing spoons on his nose and face!
Ant and Dec let out a huge laugh when the contestant reveals his name is Simon Cowell. Ant joked: "Well Simon Cowell, Simon Cowell is ready for you" as he ushered the BGT hopeful onto the stage.
Dec said: "Knock 'em dead Simon Cowell".
While Ant chuckled and added: "Good luck."
The BGT contestant, aged 47, works in IT, but his act is unique.
He said: "I think this is the first time my act has ever been seen on Britain's Got Talent, so it will be very interesting to see how the judges take to it."
When Simon reveals his name Judge Alesha Dixon cannot believe it. She replied: "No way!"
As Simon, the judge we all love to hate, looks at the contestant in a state of confusion, fellow judge Amanda Holden said: "What do you do Simon Cowell? Do you terrorise people as well?"
The BGT contestant replied: "No nothing as glamorous as that."
Simon revealed that he has been practising his talent for quite a few years. Dramatic music sets the scene before Simon unwrapped his spoons and unveiled his ability to balance them on his nose and face.
Judge Simon Cowell didn't seem too impressed and the other judges appeared to still be shocked at the contestants name. Will Simon put Simon through? Tune in to ITV at 8 pm on Saturday to find out.
Watch the judges meet Simon Cowell below
https://www.youtube.com/watch?v=XPJHz-b9AAU&feature=youtu.be
BGT screens on ITV on Saturday evening
Get the What to Watch Newsletter
The latest updates, reviews and unmissable series to watch and more!