Britain's Got Talent preview: can you spot the 'born dancer' and Golden Buzzer hopeful?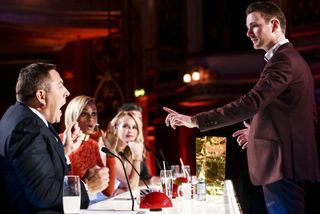 We've seen a preview of all the acts for the second round of Britain's Got Talent auditions and we've heard what judges Simon Cowell, Amanda Holden, Alesha Dixon and David Walliams have to say about them.
There are some outstanding dancers to see, some wizard magic is performed (and some that misses the mark) and there is another surprising singer.
You can see all 15 acts in our preview here.
And, while you're looking at them, see if you can match the following judges' comments to the acts…There are little clues in the quotes, the pictures and our captions…
Amanda: "I feel elated. You were amazing."
Simon: "This reminds me of being taken to this really bad magic act at a children's party when I was seven. I cried and had to be taken home."
David: "I'm not pressing that [Golden Buzzer] dear."
Amanda: "I don't think it went your way today."
David: "I was not expecting this singing voice."
Simon: "It doesn't get much worse than that."
David: "That was a real Billy Elliot moment for me."
Amanda: "So clever! You have every chance in the world of winning!"
Simon: "Never seen anything like it in my life."
Alesha: "You're still studying, right? Good."
David: "Completely in the spirit of Britain's Got Talent."
Simon: "We're getting the whole world turning up to audition. I love that."
David: "So dramatic!"
Alesha: "That was painful."
David: "You're exactly the kind of British eccentric we love on Britain's Got Talent."
We'll have a full report on the results after tonight's Britain's Got Talent, which starts on ITV tonight (April 16), 8.00pm.
Get the latest updates, reviews and unmissable series to watch and more!
Thank you for signing up to Whattowatch. You will receive a verification email shortly.
There was a problem. Please refresh the page and try again.