Britain's Got Talent: Who is Lorraine Bowen?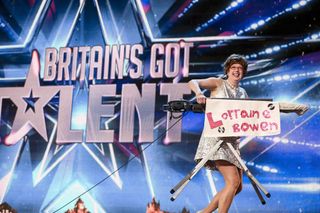 David Walliams likes nothing better than winding up Simon Cowell and in last night's Britain's Got Talent he really got to his fellow judge when he finally used his Golden Buzzer.
At the beginning of the programme, David was the only judge who hadn't used the chance to send a favourite act straight through to the live semi-finals in a few weeks.
It's fair to say that David's not one to follow the crowd, so it was no surprise that his Golden Buzzer act went down like a lead balloon with Simon – and co-judges Amanda Holden and Alesha Dixon.
Lorraine Bowen – who sung a song about making crumble (as in the pudding) while playing a keyboard on an ironing board – had hardly got going before Cowell hit his buzzer. And it wasn't long before Amanda and Alesha followed suit. David, however, clearly enjoyed the performance, as did the audience. 
http://www.youtube.com/watch?v=51JSTXhfx3c
But while Simon, Amanda and Alesha may not be fans of Lorraine, there are plenty of people who are. 
For the past 25 years, Lorraine, 53, has built up a loyal following on pub and club circuit with her one-woman show The Lorraine Bowen Experience. For the early part of her career, Lorraine performed with singer Billy Bragg and it was him who persuaded her to put the act together. In the early days, she had just three songs, a Casio keyboard and an ironing board.
Since then, she's taken the show all over the world, and has been a regular at festivals, including Glastonbury, Bestival and gay pride events all over the UK.  
The song she performed on Britain's Got Talent – The Crumble Song – has become a favourite among her fans and she has even recorded the catchy tune in French, Dutch and Italian!
Lorraine has also released five albums and now has a catalogue of songs about a variety of subjects, including Julie Christie, Bexhill-on-Sea, the dubious contents of burgers,  fish fingers, mothballs and  post office queues …
http://www.youtube.com/watch?v=1bJUfd1SHIU
Another show she has created is called Polyester Fiesta – inspired by her love of the man-made material and of vintage clothes. She even appeared on BBC1's The One Show to talk about it! See her talking about all-things polyester and vintage here…
http://www.youtube.com/watch?v=6Q9_ed8g-84
Get the latest updates, reviews and unmissable series to watch and more!
Thank you for signing up to Whattowatch. You will receive a verification email shortly.
There was a problem. Please refresh the page and try again.