Britain's Got Talent's Calum: 'Getting the Golden Buzzer was surreal!'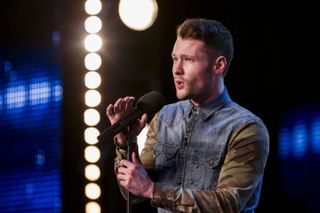 Following the drama of his first Britain's Got Talent audition, Simon Cowell's Golden Buzzer act Calum Scott, 26, from Hull will be singing to win as the live shows begin…
Congratulations on getting through to the live semi-finals of Britain's Got Talent. You must be thrilled…
"It's all been absolutely incredible. I couldn't be happier, but obviously that's coupled with feeling extremely nervous about going back on TV and performing live. I have a mix of emotions, but I'm really looking forward to getting back on the stage and showing everybody what else I can do."
Speaking of mixed emotions, your first audition must have been bittersweet in that you had to go on after your singing sister, Jade, had just been rejected by all four judges. How did that make you feel?
"I could see Jade's heart was breaking and I just wanted to give her a cuddle, but I had to go straight on. I needed to show the judges there was talent in my family and I decided to put all the emotion I was feeling for Jade into my song."
You got a standing ovation for your rendition of Robyn's Dancing on my Own. In fact, Simon Cowell loved it so much he pressed the Golden Buzzer. Could you believe it?
"Not at all. I was still feeling a bit raw, so to then get the Golden Buzzer was surreal, but also the most magical experience ever. I had wanted to impress Simon, so to get that reaction from him was out of this world – he's completely changed my life."
Are you and Jade still really close?
"Oh yes. There's no bitterness - Jade's full of support for me. We've always been close but, because of what happened, we're now closer than ever before!"
The video of your Britain's Got Talent audition has had over 12 million hits on YouTube…
"I know! People like Ashton Kutcher and Ne-Yo have shared my video in America and X Factor stars such as Little Mix and Union J have been in touch. The support I've had has surpassed anything I expected from being on the show."
How have you been preparing for your semi-final performance?
"Well, picking the right song has been tricky. Obviously, I don't want to jinx myself, but I knew I also had to think about what I'd sing in the final. People have told me I set myself a high standard with my first audition, so what I've got to do for the semi-finals is push that bar – but not too high because then I might have to push it again!"
Is there a chance we might see a change of direction?
"I realised I'm probably best off sticking to what I know people love and what they're expecting of me so, like I did with the Robyn song, I'll be trying to deliver on the emotion. It certainly won't be anything like Uptown Funk!"
So, how are you feeling about going 'live' - and facing the public vote?
"Performing live is massively daunting. Even the idea of hosts Ant & Dec introducing me, is making me feel a bit sick – but in a good way."
We're crossing our fingers for you but, if you don't win Britain's Got Talent, will you return to your job as a recruitment officer?
"Well, I've booked leave off for the live show and the final, so I'm praying I do as well as I can, so hopefully I won't have to go back but, if I have to, then so be it. If I don't get through, the publicity and all the support I've had has been a prize enough for me."
The Britain's Got Talent live-semi finals will be shown over five nights from Monday, May 25 on ITV.
Watch Calum's Britain's Got Talent audition below...
http://youtube.com/v/WSinMOs5eGw
Get the latest updates, reviews and unmissable series to watch and more!
Thank you for signing up to Whattowatch. You will receive a verification email shortly.
There was a problem. Please refresh the page and try again.