David Walliams admits he 'played up' to the public assumption of him being gay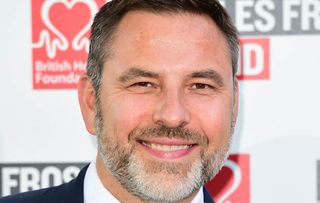 Comedian and author David Walliams says he plays up to the public perception he is gay and admits 'I am quite camp'
David Walliams says he 'played up' being homosexual over the years, but he is still baffled at the level of interest there is in the sexuality of others.
He also admits the question he is most frequently asked about his Britain's Got Talent co-star Simon Cowell concerns his sexuality.
Speaking to CNBC's Tania Bryer, the Little Britain star said he was not bothered by the enormous interest in his personal life and sexual orientation, especially at the beginning of his ascent to fame in the early 2000s.
He said: "I played up to it. Little Britain was a very camp show. And Matt (Lucas), who is gay, is actually quite blokeish and he likes things like going to watch Arsenal.
"Whereas, I am quite camp and much more, sort of wanting to go out to the ballet and things like that. So, I mean we're talking in quite stereotypical terms that is probably not that helpful because everyone's different, aren't they?
"People assume certain things if people are effeminate. But I didn't mind too much. I mean, I sort of played up to it, I suppose, to some extent playing these camp characters on screen.
"And then I was I linked to some glamorous women so there was a kind of, 'Oh hang on, how is this man who wears a dress, you know, being seen out with these glamorous women?' And so it confused people."
He added that it amazed him 'that in this era people are still interested' in the sexual orientation of others and ask questions about it.
David, 45, was married to Dutch supermodel Lara Stone from 2010 until their divorce in 2015, and they have a three-year-old son called Alfred.
In 2013, the TV star and writer said that he could fall for either a woman or a man, telling the Radio Times that, for him, he falls in love with the person's 'soul and heart and brain'.
At the time, he said: "I hate it when people 'confess' or 'reveal' their sexuality and also things can change for people over the years."
In the CNBC chat, David said he was often asked what Simon was like, after appearing alongside him on the Britain's Got Talent panel since 2012.
"Actually you were talking about sexuality and that's the biggest question people get asked about him," he told Tania.
Simon, 57, is in a relationship with girlfriend Lauren Silverman, with whom he has a two-year-old son, Eric, and he has been involved in a number of high-profile romances with the likes of make-up artist Mezhgan Hussainy and singer Sinitta.
David said of Simon: "I think he's the kind of person who has his life exactly how he wants it. If he doesn't want to get up until four in the afternoon, he won't.
"If he wants to have sausages and chips every night for his dinner, he will."
CNBC will screen a CNBC Conversation with Tania Bryer and David Walliams at 10pm on Wednesday, December 28.
Get the latest updates, reviews and unmissable series to watch and more!
Thank you for signing up to Whattowatch. You will receive a verification email shortly.
There was a problem. Please refresh the page and try again.