Revealed: all the semi-finalists for Britain's Got Talent 2014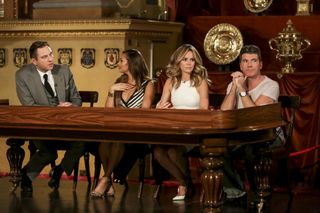 (Image credit: Fremantle Media Ltd t/a Talk/REX)
After lots of tears, cheers and laughter - and that's just from David Walliams - the Britain's Got Talent judges gathered and decided on the acts that will perform in the live semi finals.
And the live shows promise to be an all-singing, all-dancing affair - with lots of comedy, puppetry and magic in the mix.
The 40 acts chosen to perform for the public vote are:
Darcy Oake, magician - "Without question the best magician we've ever had on the show," Simon Cowell told him.
Jon Clegg, impressionist - He won the audience over with his impression of Simon but "I loved your Marge Simpson, she was my favourite," Simon told him.
Jenson Zhu, comedian - "I think you have a future in comedy," David Walliams (opens in new tab) told him.
Ricky K, comedian - "You're a born entertainer," David said after his audition.
DJ Allan Turner-Ward - He's exactly what his name says he is, a DJ - a "cheesy" one that the judges loved, except Simon.
LA Voix and the London Gay Big Band - A powerhouse drag act that even Simon, who hates drag acts, couldn't resist.
Patsy May, puppet - Cheeky comedienne who warned Ant and Dec not to fall in love with her but they did a little bit - and the audience did a lot.
Sam Jones, ventriloquist - The judges liked his style.
Peatloaf and Elaine, singers - This Meatloaf tribute act surprised the judges and won through.
Eva Iglesias, singer - She gave a powerhouse performance that had judges and audience on their feet.
Andrew Derbyshire, singer - He auditioned for Pop Idol 14 years ago and got nowhere. Now he's in the semi finals.
Jodi Bird, singer - Don't Rain On My Parade sang Jodi at her audition. Simon tried to but she made it through.
Bailey McConnell, singer - He sang one of his own songs and Alesha Dixon (opens in new tab) told him: "If I had my own record label I'd sign you."
Henrietta Adewole, singer - Alesha Dixon and Amanda Holden (opens in new tab) loved her "jazzy" tones.
Ellis James Chick, singer - 14-year-old singer who Simon warned needed to "be cooler than that" after his hammy performance.
Lucy Kay, opera singer - "You are a beautiful girl with a beautiful voice," David Walliams told her.
Micky Dumoulin, singer - He reminded Simon Cowell of Olly Murs - and Simon liked that.
Ed Drewett, singer - He revealed he co-wrote Best Song Ever for One Direction and now wants to have his time in the spotlight.
James Smith, singer - "One of my favourite auditions so far," Simon told him in round two.
Kitty and Rosie, singer - mother-and-daughter singing act that got through despite Simon thinking they might be better apart.
Kieran and Sarah, singer - boyfriend and girlfriend singers Simon wanted to buzz off but David stopped him by literally wrestling Simon's hands away from his red buzzer.
Collabro, singers - A boy band that prompted Simon to say: "You know what? Britain really has got talent."
Jack Pack, singers - "We've got boy bands but nothing like this," said Amanda of this swing group.
SweetChix, singers - Simon Cowell told this girl group from Essex that he "liked their attitude".
Kony, dancers - A troupe of dancing puppets that Amanda Holden thought was "absolutely ingenious".
Yanis, Arnaud and Mehdi, dancers - French male dance trio that can really move in high heels. "On paper this sounded fairly hideous," said Simon, "but it worked. It was fantastic."
Light Balance, dancers - An amazing act, performed in darkness, in suits that are lit up for an electric dance show.
Mini Moves, dancers - A group of bouncy, bendy young girls with very bouncy hair.
Innova, dancers - Irish dancers with more than a hop and a skip to their routine.
Lauren and Terrell, dancers - Teenage dancers who busted some big moves.
Kings and Queens, dancers - This Latin dance group got David Walliams all hot under the collar.
CountryVive, dancers - A line dance act that had the judges lining up to put them through to the semis.
Cartel, dancers - "I thought you were brilliant," Amanda told them.
Crazy Rouge, dancers - Simon loved this burlesque act, but not as much as David.
Kieran Lai, dancer - A body-popping dancer whose routine was inspired by the Tin Man in Wizard of Oz.
The Addict Initiative, dancers - Simon loved "the intensity" of this group. "You are refreshingly evil," he told them.
Pyroterra, dancers - A dance group that dances with fire - literally.
Bold Dog FMX, motorbike display team - Brilliant - but will their act work inside a theatre?
Brian Chan, artist - live art that David said he'd have in his home.
Lettice Rowbotham, violinist - "You made that violin sexy," Amanda told her. And Simon happily agreed.
These 40 acts join the judges' golden buzzer acts from the audition rounds, Amanda's dancers Paddy and Nico (opens in new tab), David's would-be singer Cristian Spiridon (opens in new tab), Alesha's girl group REAformed (opens in new tab), Simon's teenage rappers Bars and Melody (opens in new tab) and Ant and Dec's choice, comedian Toju Okorodudu (opens in new tab).
They're all competing for a place in the live final, where they could win £250,000 and a spot in this years's Royal Variety Performance.
The live semi finals begin on ITV on Monday, May 26.
The live Britain's Got Talent (opens in new tab) final is on Saturday, June 7.
Click here (opens in new tab) for a picture special on the semi-finalists
Get the latest updates, reviews and unmissable series to watch and more!
Thank you for signing up to Whattowatch. You will receive a verification email shortly.
There was a problem. Please refresh the page and try again.