UK ventriloquist Paul Zerdin says he 'never ever EVER' thought he'd win America's Got Talent (VIDEO)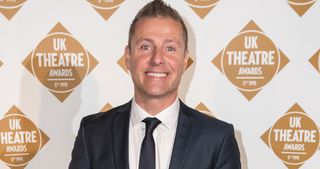 (Image credit: James Gourley/REX/Shutterstock)
British ventriloquist Paul Zerdin says life has got crazy since he won America's Got Talent and the US$1million prize in September.
Paul has been honing his act for 20 years and has worked everywhere from cruize ships to the Royal Variety Performance, so his next logical step was to try the United States and earlier this year he auditioned with his three puppets – granddad Albert, pre-teen boy Sam and Baby.
Paul explained to What's on TV why he chose AGT rather than Britain's Got Talent: "I've done the Royal Variety Show a number of times and the prize or part of the prize of winning Britain's Got Talent is appearing on the Royal Variety Show, so I thought if I rocked up on Britain's Got Talent it would look like cheating, maybe over qualified. But I thought America, totally different market, so why not?
"So I thought I'd sneak over to America to have a go at their little talent show, and if it didn't go well I could have sneaked back and no one would've been any the wiser. But unfortunately I forgot about social media and if I had have got an [X buzzer] that would've been embarrassing and everyone would have found out anyway.
"But actually it went really well and I got a standing ovation at the Dolby Theatre at my first audition in Hollywood and I thought 'OK that went quite well' and then I got through to the next round, then the next round and then live show at Radio City. I never ever ever expected to win it. By the time I got to the live shows I thought I had a good chance to get through to the final, realistically, but I never... I thought they'd vote for an American!"
Paul confessed the reaction to winning America's Got Talent has been amazing in the US. "The reaction's been tremendous... I was going into the duty free to spray myself with a bit of aftershave before getting on my flight home at JFK and I walked past this guy and he went 'OH MY GOD IT'S THE PUPPET GUY!' He stopped and it was in the middle of duty free and all these people started gathering around and taking photos...
"It was actually a bit crazy and I thought 'Yes that's very nice, but I'd quite like to get on the plane and come back to a bit of normality'. So it was lovely, but crazy."
Fans can see Paul co-starring with Gok Wan in Cinderella in Plymouth, before he embarks on a UK nationwide tour Spongefinger next year.
Paul is also appearing on Michael McIntyre's Big Christmas Show on BBC1 on Christmas Day.
Get the latest updates, reviews and unmissable series to watch and more!
Thank you for signing up to Whattowatch. You will receive a verification email shortly.
There was a problem. Please refresh the page and try again.