Who had the wow factor in Britain's Got Talent?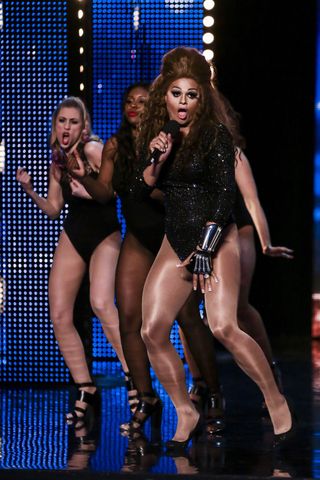 There was another mixed bag of acts this week as the auditions continued in Britain's Got Talent.
When we first saw Aaron Carty, a 29-year-old former police officer, we had no idea what to expect when he took to the stage. And we don't think his nan did either! She looked quite shocked when her grandson rocked up on stage dressed as Beyoncé! No one seemed to twig it was a fella until he introduced himself to the judges. It was a bit disappointing that he mimed to the singing superstar's greatest hits, but that didn't seem to bother all but one of the judges because he got three yeses.
But while Aaron was entertaining, the best was still yet to come in the form of a 20 piece dance troupe from Essex. Aged between 10 and 16, Entity Allstars performed a hip hop routine for the judges, who all loved it. And Alesha loved it so much she pressed her Golden Buzzer to put the act straight through to the live shows. We can't help wonder if she should have waited to use it on the much more impressive UDI – a nine piece dance troupe from Siberia who really had the wow factor by mixing dance and light to tell a story, probably with a moral in there somewhere. But hey ho – what do we know?!
As usual, there was a raft of weird acts that you wonder how they got onto the stage in the first place. We're talking about hypnotist Joanna Cameron, whose act was a total snoozefest, and Arun Shendurnikar, who just hit a set of bongos along to Abba's Lay You Love On Me. It was baffling why everyone apart from Alesha loved it! Even more puzzling was how he got three yeses! The same could be said of DJ John, who also got three yeses from the judges. But why? He was basically just larging it to a tune that he liked dancing to! Shall we mention the 1980s-inspired Mark Ponting or Oliver Reynolds performing a tune with the aid of a balloon or even Polly Rowley-Sams singing a song about dust mites? No. Best not!
Meanwhile, Chloe Crawford – who works as a magician's assistant in Las Vegas – performed a trick of her own involving a motorbike which she somehow "magicked" into the royal box! Good job, Her Majesty wasn't there at the time!
Alesha spent most of the show disagreeing with her fellow judges about the acts. So it was a bit "awks" – as the kids say – when she said she didn't like Dylan Bird's dance routine and he said that she was the one judge he wanted to impress because she is his inspiration! The 16 year old had left his native Ireland for the first time ever to audition as well! Awww!
Also worthy of mention is Ella Shaw, an 18 year old from Blackburn, who performed her own beautiful song Summertime; Vladimir Georgievsky, who performed a comedy trampoline act; and dance troupe OK Worldwide – aka Tom from Essex and his Romanian mates Stefan, Lorand and Bogdan – whose performance combined dance, acrobatics and free running.
Call us cynical, but when you know you're seeing the last act of the evening there's never any doubt that it will be an amazing act. You don't need to be Mystic Meg to know that it will end with the music they always play at the end of an outstanding performance, the judges giving a standing ovation and Simon and co each giving them a "One hundred per cent yes". And so it was with Alison Jiear who sang a goosebump-inducing rendition of You'll Never Walk Alone. After she sang her final note, there was the music they always play at the end of an outstanding performance, the judges gave her a standing ovation and they each gave her a "One hundred per cent yes"…
Get the latest updates, reviews and unmissable series to watch and more!
Thank you for signing up to Whattowatch. You will receive a verification email shortly.
There was a problem. Please refresh the page and try again.