Amazon Prime Day 2021
Everything you need to know about the annual sale — what's good, what's bad, and what's worth ignoring.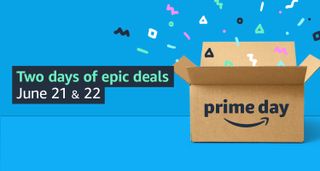 (Image credit: Amazon)
Amazon Prime Day is here. Almost. And that's good enough to get the ball rolling on Amazon's annual sales extravaganza not just for our purposes, but for Amazon's, too.
In other words, the hot deals on things you might well want to watch the things you want to watch already have begun.
Amazon Prime Day — can we just call it Prime Month already? — means that you're going to save a ton on Amazon products, of course. That means things like Amazon Fire TV Edition televisions. That means Amazon Fire TV sticks. That means the Amazon Fire TV Cube. That means the Amazon Echo. That means the Amazon Echo Show.
Anything and everything that Amazon makes probably will be on sale at some point between now on Amazon Prime Day(s) come June 21-22. Just make sure you've got an Amazon Prime subscription, or you might miss out on the biggest savings.
We'll keep this post updated with the best of the Prime Day deals now and as the actual day(s) arrive. Check back often!
Top Deals
There are a LOT of deals on Amazon Prime Day. Some are better than others. This These at the top here are our TOP deals on Prime Day. So check back often.
Televisions
Prime Day deals on smart TVs
Here's the thing about deals on televisions for Amazon Prime Day: It's possible to get something super inexpensive. But that doesn't mean you should.
If something says 720p on it, just keep walking. You don't want it. At bare minimum any TV you buy in 2021 should say at least "1080p" on it. And even then, know that you're not exactly buying something that's up to par for the year in which you're living — to say nothing of getting something that's future-proof.
Maybe it's OK if you're getting something for a kid's playroom. But nothing more sophisticated than that.
Amazon Fire TV Edition televisions are awkwardly named but have Amazon Fire TV built in as the operating system, so you don't have to plug in anything else if you don't want to to stream all the things.
Here are the best deals on televisions for Amazon Prime Day 2021:
Amazon Fire TV
Prime Day deals on Amazon Fire TV devices
Amazon Fire TV devices are the second-most popular streaming platform in the United States, and No. 1 in the rest of the world. And for good reason. They're inexpensive, easy to use, and have all the apps you could possibly want to do all the things.
They run the gamut from inexpensive sticks to slightly less inexpensive — but much more powerful — boxes. As we usually recommend with this sort of thing, you get what you pay for. If you can spend a little extra, do it. It's worth it in the long run.
Here are the best deals on Amazon Fire TV devices going into Prime Day 2021.
Amazon Echo
Prime Day deals on Amazon Echo
You can't beat the original. Amazon Echo launched the smart speaker revolution, and it just keeps getting better every year. It's also branched out into a few more designs. There's the diminutive third-generation Echo Dot, which is the smallest and least-expensive option. Or you can bump up to the fourth-gen model which reclaims the spheroid shape. Or snag an Echo Dot clock for just a few dollars more.
If audio quality is more important, the full Echo Dot (also a sphere) increases the price but also the pleasure.
And Amazon even has some high-end options available.
And of course it's all on sale come Prime Day 2021.
Networking and Wifi
Prime Day deals on routers and mesh Wifi
None of this streaming or smart-home stuff would be possible without a home network. And it's more important than ever to have a home network that's fast and stable.
If you're looking to get into the mesh Wifi game, Eero (which happens to be owned by Amazon) is where it's at. It was a solid choice long before Amazon scooped up the company, and it still works great today. And you can start small. A single Eero device gets you going, and you can build things out from there if you decide that you need more coverage.
It's super simple to set up, and extremely easy to control from the smartphone app. You don't have to be a networking expert to use an Eero and have a great home network.
Phil spent his 20s in the newsroom of the Pensacola (Fla.) News Journal, his 30s on the road for AndroidCentral.com and Mobile Nations and is the Dad part of Modern Dad.
Get the latest updates, reviews and unmissable series to watch and more!
Thank you for signing up to Whattowatch. You will receive a verification email shortly.
There was a problem. Please refresh the page and try again.