Call the Midwife's Jack Ashton reveals dark days ahead for Tom and Trixie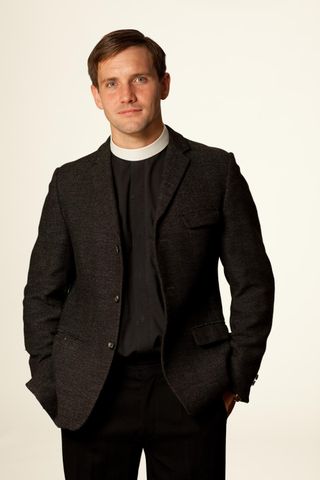 As Vicar Tom Hereward, Jack Ashton is Call the Midwife's most eligible bachelor. So it's no wonder nurse Trixie Franklin said yes, when he proposed to her. But we can reveal that love is on the rocks for the young couple…
On Sunday viewers will see Tom have serious doubts about marrying Trixie, after a visit from the Bishop highlights how ill-prepared she is for life as a clergyman's wife.
In the emotional episode Trixie has an outburst in front of the Bishop when he proposes moving Tom to an impoverished parish in Newcastle. Afterwards, the couple have their first serious row, with some heartbreaking consequences.
Jack Ashton said: "I can't say too much, but Tom, who is much more involved in the community now, certainly experiences a myriad of emotions.
"The story is constantly moving and the couple approach some difficult subjects."
Although Jack is staying tight-lipped about the fall-out from Trixie and Tom's argument, What's on TV can reveal party girl Trixie hits the bottle and ends up dead drunk and passed out in her room.
Jack revealed his friendship with Helen George, who plays Trixie, is less intense off-camera: "Helen has been very kind to me since I joined and makes me laugh a lot. It was lovely to be asked back, it's such a fun job."
He's even comfortable in Tom's religious get-up: "I'm so used to the dog collar now I forget I have it on!"
See if Trixie has jeopardised her job and her relationship on Call the Midwife, Sunday, February 8 at 8pm on BBC1.
Get the latest updates, reviews and unmissable series to watch and more!
Thank you for signing up to Whattowatch. You will receive a verification email shortly.
There was a problem. Please refresh the page and try again.