Midwife's Pam Ferris on Sister Evangelina's painful past...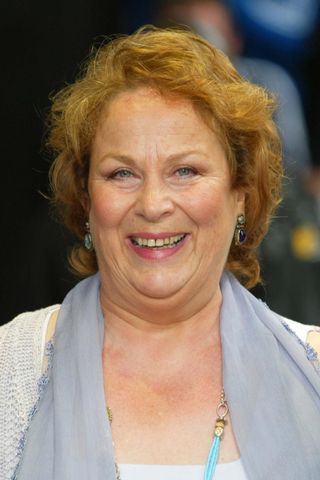 Sister Evangelina is hiding a painful past in this week's episode of Call the Midwife. Actress Pam Ferris fills us in…
We discover a lot about Sister Evangelina this week. What can you tell us about her background?
"There are a few facts about Sister Evangelina's background from Jennifer Worth's book. She comes from a poor family in Reading, worked in a munitions factory then trained as a nurse during the World War One. I imagine she had lots of brothers and sisters, but we don't know what happened with her family."
In Sunday's episode it's the 50th anniversary of her taking religious vow. Why is she angry to discover a party's being planned?
"There are some things I can't tell you and some I can! At some point she felt that the church was for her and dedicated her life. I'm dancing around here because I don't want to spoil the surprise… Some of her past comes back, from before she was a nun, and it's very painful."
How was it for you to film her anniversary scenes?
"I realised for the first time what it must be like to be a midwife in one small area for so many years. She delivers the babies of babies she delivered 20 years ago! She shares intimate details of their lives. It's a privileged position and I found it very touching."
Shelagh's running Nonnatus House this week while Sister Julienne's on leave. Does this cause tension?
"Sister Evangelina wasn't thrilled about Shelagh [formerly Sister Bernadette] leaving the order. She herself is so committed to her work that she finds it inconceivable that someone could make the choice to give it up. Not surprisingly their relationship becomes rocky for a while."
You've played a wide range of characters over the years, from nasty women like Nesta in Connie and Trunchbull in Matilda, to lovely ladies such as Ma Larkin in Darling Buds of May and Peggy Snow in Where the Heart Is. How does Sister Evangelina compare?
"Although she's tough and outspoken Sister Evangelina isn't in the least bit egotistical. She takes her vow of poverty very seriously and would hate anyone to spend time or money on her frivolously. She's also a great woman to have around in an emergency – I'm just not sure I'd want to be stuck in a lift with her!"
Call the Midwife continues on Sunday at 8pm on BBC1.
Get the latest updates, reviews and unmissable series to watch and more!
Thank you for signing up to Whattowatch. You will receive a verification email shortly.
There was a problem. Please refresh the page and try again.