Amanda Mealing: The love is still there for Connie and Jacob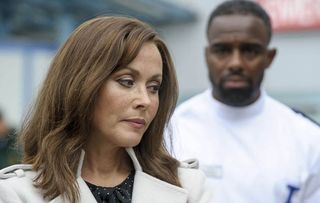 (Image credit: BBC / Alistair Heap)
Amanda Mealing reveals there's hope for former Casualty power couple Jacob Masters and Connie Beauchamp…
Just when you thought Casualty's Connie Beauchamp was dead on the inside Amanda Mealing turns that notion on its head and reveals there's hope of happiness for the ED clinical lead.
What's on TV talked to the Casualty star about her upcoming storyline involving Connie and young Hugo Bonning, who Connie's been looking after. Amanda reveals this heart-wrenching chapter opens up the door for drastic changes in Connie's life, including a glimmer of hope for Connie and Jacob…
Connie's in for a shock this week when Hugo's dad announces they're moving to Scotland. How does Connie react? "After the entire situation with Connie's daughter, Grace, she's been really content looking after Hugo. They've formed a good relationship, he's really keen on biology, which is her field, and they have great rapport. So when his father Jim turns up and says they're moving to Scotland, Connie is shocked. It's then she suddenly realises how much she's enjoyed having Hugo around."
It must be a bit of a shock for Hugo too? "Connie wants to break the news to Hugo herself, because she knows it's going to be a shock for him. They've really bonded. Hugo's even mistakenly called Connie Mum!"
How does Hugo take the news? "He doesn't take it well at all. He's desperately upset and runs off! He has a record of running off and hitching rides, which is a dangerous thing in itself, so there are concerns on many levels…"
There are other concerns here – has Connie replaced Grace with Hugo? "Well, it brings into question everything, especially her relationship with her own daughter. Why has that failed so often? Why can she not just be happy?
"She's replaced all the attention and affection Grace is refusing onto Hugo, who's like a surrogate child to her. It reflects how tragic Connie's life has become and how lonely she is."
What does she conclude? "She is the common denominator in all of this. She has to take a blunt and honest look at herself, which isn't very nice! She's been rejected by Grace. She's rejected Jacob. She constantly sabotages her well-being and happiness, and for what? Usually for work!"
Does she manage to let go of Hugo? "Jacob (Charles Venn) reminds her she's blurred the lines quite a bit. He makes her realise Hugo isn't her child and he needs to be with his real parents. Grace is her child and her responsibility is there."
What would you like to see next for Connie? "I do feel sorry for Connie. She's her own worst enemy. She's well intentioned with the things she does, but inevitably they're misguided. The situation with Hugo makes her come to terms with the fact she needs to rake a radical step back and reassess who she is. I hope she can learn to respect Grace and reconcile with her."
Is there any hope Connie and Jacob could rekindle their relationship? "I think Jacob is the only person she's really loved. He's the only person she's allowed into her life fully. She's very guarded. To Connie being in love is a vulnerable place. Jacob is the only person she allowed in, but even then she pushed him away!
"I do hope that at some point that they can rekindle that. The affection and love is obviously still there. It's just that once she shut the door, it's really difficult to open up again…"
It would make Casualty fans very happy! "The fans are still very strongly behind Connie and Jacob's relationship. I think we were all surprised about how well it was received... So watch this space!"
Casualty screens on BBC1 at 9pm this Saturday.
Interview by Victoria Wilson
Get the latest updates, reviews and unmissable series to watch and more!
Thank you for signing up to Whattowatch. You will receive a verification email shortly.
There was a problem. Please refresh the page and try again.