Casualty: Death in the ED!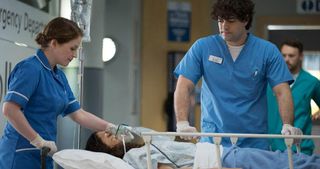 (Image credit: BBC)
With senior nurses Rita and Charlie on a course, reluctant leader Lofty finds himself in charge of the ED in tonight's episode of Casualty. But his decision to listen to his head, not his heart, results in tragedy. Here, Lee Mead, who plays the likeable nurse, tells us how his first stint at the helm goes horribly wrong…
How does this traumatic shift begin for recently promoted Lofty?
It starts off as a regular day. Lofty clocks in and touches base at the morning meeting, where he finds out Jacob is running the ship for the day.
But that all changes?
Yes! Dylan ends up speaking for Lofty and says that he should be given a chance to run the ED today, not Jacob! At first Lofty's apprehensive but Dylan's little nudge gives him a quiet boost of confidence to say 'yes' to the challenge. Lofty's been working hard towards becoming a Band 6 nurse and has been waiting for an opportunity like this.
How does he cope?
Even though there's a lot going on in the ED, Lofty takes control and things are going smoothly. But a lot happens after he hires an extra support nurse called Diane Stuart, played by Catherine Skinner…
Can you reveal more?
Well, Diane is very tired from lack of sleep and she's taking some pills to keep her awake! When Lofty catches her making mistakes he calls her into the office to discuss it.
So, does he read her the riot act?
Far from it. He's too kind-hearted and caves in when she tells him her husband's left her and she's a single mum. He decides to give her a second chance, but it's an error - she makes a very costly mistake.
How does tragedy strike?
Later Lofty, Dylan (William Beck) and Diane are stuck in the lift trying to resuscitate a young patient. In the panic Diane doesn't take her hand off the patient in time. She receives a shock and ends up dying! I can't say much more but a lot is going to unfold from this. I welled up when I watched it, and hope fans sympathise!
As well as working on Casualty, do you have any musical projects this year?
My album Some Enchanted Evening came out yesterday. It's a fresh, modern taken on songs from classic films like Singing in the Rain and Guys and Dolls. I'm touring with it in October, but before that I'm doing the Chitty Chitty Bang Bang musical, sharing the role of Caractacus Potts with Jason Manford.
Watch Lofty's horror shift unfold tonight in Casualty at 9pm on BBC1
Get the latest updates, reviews and unmissable series to watch and more!
Thank you for signing up to Whattowatch. You will receive a verification email shortly.
There was a problem. Please refresh the page and try again.