Charles Venn: 'We call the 30th anniversary episode Casualty: The Movie!'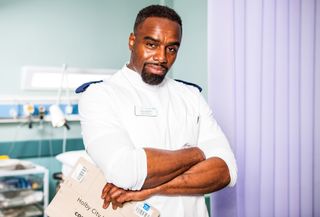 (Image credit: BBC)
Charles 'Chucky' Venn (opens in new tab) talks to Soaplife about Casualty's explosive 30th anniversary episode in August and his past life in EastEnders...
Is your character, nurse Jacob Masters, a big part of the special episode?
"Yes. I don't want to give anything away, but my character, Jacob, is an integral part of it. It's action-packed and I get to do a few stunts, which is a dream come true for me. I wanted to be a stuntman when I was younger. The 110-minute 30th anniversary episode is like a film and we call it Casualty: The Movie."
Do people recognise you as Jacob?
"They're starting to. Up until a few months ago, it was always 'Ray! Ray! Ray! It's Ray Dixon from EastEnders!' That's all beginning to change, though. It's not as mad as it was with EastEnders."
What do you mean?
"I wasn't really prepared for how crazy it would be with EastEnders (opens in new tab). When I first started playing Ray, the recognition thing wasn't too mad, but that all changed a few months in. I remember going to a party and I wasn't left alone all night. It seemed everyone wanted a picture!"
Casualty's filmed in Cardiff. Have you relocated to Wales?
"No. I'm between Cardiff and London, where my family is. It's just one of those situations. It's hard sometimes, but I'm thankful I'm here and I've been given such a great character to play. I'd like to play him for a long time, there's no doubt about that."
Casualty (opens in new tab), BBC1
Thank you for signing up to Whattowatch. You will receive a verification email shortly.
There was a problem. Please refresh the page and try again.