George Rainsford: 'Ethan stands up to Connie... but things get dangerous!'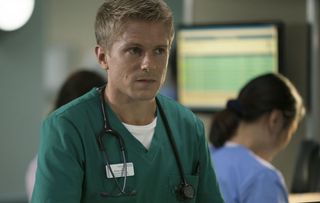 (Image credit: BBC / Alistair Heap)
George Rainsford reveals Ethan stands up to Connie with catastrophic results in Casualty
The cat is well and truly out of the bag in this week's (opens in new tab) Casualty. Ethan Hardy confronts Connie Beauchamp and reveals he knows she's seriously ill. Only for Connie to counterattack and reveal she knows he let Scott Ellisson die!
It looks like neither party has the upper hand, until Connie skilfully blackmails Ethan – who's on the verge of handing himself over to the police – into giving her medical care. We can't say much more but don't mind telling you, just when you think the episode has reached its pinnacle of intensity, the mist clears and there's another level of mountain-like tension to endure!
But why listen to us, George Rainsford
(opens in new tab)

, who plays doctor Ethan Hardy, explained it so much better in his interview with What's on TV

(opens in new tab)

…

How does Ethan come to realise Connie is the 'patient' she's been discussing with him?

"There are a few moments. I think even a few episodes ago he started to suspect that it wasn't a case study because of her reactions around it. This week she starts to lose sensation in her arm, which is one of the side effects of a clot moving from the tumour into the artery."

Does this affect Connie at work?

"Yes, she drops a scalpel and then winces in pain when she's putting a patient onto a bed, and it all starts to piece together for Ethan. But, because it's Connie, he has to be cautious - she can fly off the handle!"

He notices some medication in her handbag, too…

"That's right, she's got some blood thinners and some medication that, as a doctor, he knows straight away are related to the heart. He just puts everything together but has to sort of first tease the idea with Connie that he knows because it isn't a black and white situation…"

Sensitive stuff - how does he approach it?

"His advice is the same as the expert, that she should seek treatment. Her fears as a surgeon means she understands what can go wrong on the table so he's just gently trying to persuade her at this stage without letting on that he knows… But then she starts to be affected at work and then the potential for something to happen to a patient is much higher."

Does she realise he's cottoned on at that stage?

"No I don't think so. But she's not acting like herself and when she lashes out at a patient in a storyline [with Anita Dobson (opens in new tab)] that's mirroring her own psychology he eventually stands up to her! She asks to speak to him to tear a strip off him and he plucks up the courage to confront her because he's certain now that this 'case' is her."

How does he tread this tricky path?

"Eventually he has to pluck up the courage and make a decision. For him, when it starts to become dangerous and could potentially affect the people she's treating he has to intervene as a doctor. Ethan encourages her to speak to Charlie as a confidant because she clearly isn't coping and needs to seek help from somebody."
Does it take a lot for him to stand up to her?
"I think so for a combination of reasons. Because of his personality and because of Connie's very strong personality, she's not an easy person to get to know. He's sort of in her circle a little at this stage but certainly not enough to tell her she's doing the wrong thing so he has to tread carefully; I mean she's his boss as well! He cares for her and wants to get through to her, but he doesn't want to antagonise her."
How does she react?
"She basically tells him to mind his own business! Then it gets worse and she realises she does need help. As Ethan is the only person who's in-the-know she calls on him to help…"
Why do you think she's been so reluctant to have this surgery even though it could save her life?
"I think it's the fact that she's scared. Connie knows the risks, particularly as someone who works in the profession and has been a heart surgeon herself. It's difficult for her and that's something that Ethan understands, though he's definitely on the side of the expert in this scenario."
In a moment of desperation Connie (Amanda Mealing (opens in new tab)) asks Ethan to perform surgery on her arm. What's his initial reaction?
"Just absolutely no! He's already dabbled with some very questionable morals these last few months and he's very shocked his boss would suggest that, so his reaction is no, that they should do it properly. Ethan goes to speak to Charlie but Connie panics and then blackmails him!"
Find out if Ethan hands himself into the police or succumbs to Connie's blackmail when Casualty airs on Saturday, 14 October on BBC1 at 8.40pm
Interview by Hannah Davies
Writer for TV Times, What's On TV, TV & Satellite Week and What To Watch
With twenty years of experience as an entertainment journalist, Elaine writes for What's on TV, TV Times, TV & Satellite Week and (opens in new tab)www.whattowatch.com (opens in new tab) covering a variety of programs from gardening and wildlife to documentaries and drama.
As well as active involvement in the WTW family's social media accounts, she has been known to get chatty on the red carpet and wander into the odd podcast.
After a day of previewing TV, writing about TV and interviewing TV stars, Elaine likes nothing than to relax… by watching TV.
Get the latest updates, reviews and unmissable series to watch and more!
Thank you for signing up to Whattowatch. You will receive a verification email shortly.
There was a problem. Please refresh the page and try again.