Patrick Robinson on why he was gutted to leave Casualty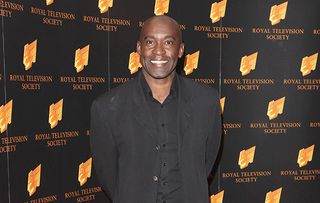 (Image credit: picture alliance / Geisler-Fotop)
Former Casualty actor, Patrick Robinson, on his new Shakespeare role, why he was gutted to wave goodbye to Casualty and what getting to the semi-final of Strictly meant to him
Former Casualty and The Bill actor, Patrick Robinson, who was a semi-finalist in Strictly Come Dancing in 2013, is helping to bring  Shakespeare to pre-schoolers in a special production of the bard's play, The Tempest, to be broadcast on CBeebies.
The play, which was filmed infront of an audience of children, also stars former EastEnders actress Annette Badland, (best known as Walford's, Aunt Babe), and CBeebies favourite, Justin Fletcher, aka Mr Tumble.
Here Patrick, 54, who has four children and lives in Shakespeare's birth place of Stratford-upon- Avon, tells us why he loved playing Prospero, why he was gutted to leave Casualty and why he still hasn't managed to do an Argentinean tango since being in Strictly!....
Patrick Robinson's interview with What's On TV
WOTV: You left Casualty after eight years of playing nurse, turned consultant, Martin "Ash" Ashford,  first leaving in 1996 then returning 17 years later. Were you sad to leave in 2014?
Patrick Robinson: "I was absolutely gutted. I finished Strictly at Christmas and basically the Casualty producers said they weren't going to renew my contract that summer. They just got rid of me and didn't even give me a proper exit storyline. People still ask me what happened to Ash, one minute he was there and the next he wasn't."
What's On TV: Why did you want to get involved with this production of The Tempest?
PR: "It's great to make it so appealing to children. It's Shakespeare and I love Shakespeare so it was a no-brainer for me. Working at the Royal Shakespeare Company was my first job after leaving drama school."
WOTV: Tell us about The Tempest and your character, Prospero...
PR: "It's one of Shakespeare's most popular plays and is filled with magic. Prospero is the Duke of Milan who's been banished from his city to an island. While he's been on the island he's used his time to learn magic and now he wants to use his skills to make mischief and control his enemies."
WOTV: You filmed in front of an audience of children. What did they make of it?
PR: "They loved it. They were really attentive and enjoyed it right from the word go. At the end of the play there's a prologue to see if Prospero should be left on the island or sent off to Naples and all the children were completely engaged and right behind it!"
WOTV: Is it important to you to make Shakespeare accessible to everyone?
PR: "Definitely. The stories are still very much in tune with people today. I met a lady recently who said, 'Oh, I can't be bothered with it', but when I explained West Side Story was based on Romeo and Juliet, suddenly she was interested. What CBeebies has done is make it appealing to young children. Their brains are like sponges at that age, they're taking everything in."
WOTV: What was it like getting to the semi-final of Strictly Come Dancing in 2013?
PR: "It was really hard graft. I'd turned 50 that year and was basically in it right up to the final week because even though I left in the semi-final I was back the next week for the group dances. But I loved it. My goal was to try and do every discipline of dance and the only one I didn't get the chance to do was the Argentinean tango which would have been the last week."
WOTV: Have you managed to do it anywhere since?
PR: "No! I was hoping to do the Strictly tour but at the time I was still working on Casualty and Casualty were keen for me to come back and do some serious storylines, which sadly didn't materialize. It was annoying! So no, I never got to go on the tour or conquer the Argentinean tango!"
WOTV: Will you get up at dance at parties?
PR: "I don't like dancing. I LOVE dancing! I can dance anywhere, I don't have any inhibitions. I love soul, jazz and funk in particular, that will always get me going and that's what I listen to mostly. When I go 'out out', it's usually to something called Soul Train which are club nights that happen around the West Country, Swindon and Gloucester for mature folk in their 40s and above. I love it!"
WOTV: As the fifth child of seven, you come from a big family. Do you all manage to get together and have big family gatherings?
PR: "I always used to have parties and invite all the clan from London and various parts of the country to converge at my place in Stratford every summer. It tied in with my daughter, Charlotte's, birthday. We did that for years but Charlotte is 26 now, she's married and my son's down in London at film school. My children are getting their own families now. The last big gathering we had was a couple of years ago."
 WOTV: You live in Stratford-upon-Avon, Shakespeare's birthplace, what's special about it for you?
PR: "I've lived there for 25 years. That's where I've brought my children up- Charlotte, 26, Jordan my son, 24, Mercedes, 17, and Olivia-Grace, 15 - and it's where I met my ex-wife. I'm originally from Lewisham, in South East London but I didn't want my kids to grow up in a city. Now they're all flying the nest my next plan is to move to the coast."
WOTV: How do you like spending time off when you're not working?
PR: "I'm not as young as I used to be. I used to play a lot of football and street hockey, which is hockey on roller skates, but the body can't take it when you get into your 50s. I still do my yoga. It strengthens you core-wise and that's how I kept myself going for the four months when I was doing Strictly!"
The Tempest will be shown on Good Friday,  CBeebies, 9.20am and 4pm and will be shown again on Easter Monday
Main pic: picture alliance / Geisler-Fotop
Get the latest updates, reviews and unmissable series to watch and more!
Thank you for signing up to Whattowatch. You will receive a verification email shortly.
There was a problem. Please refresh the page and try again.