Sunetra Sarker on Zoe and Max's happy ending: Jamie Davis asked me to come back!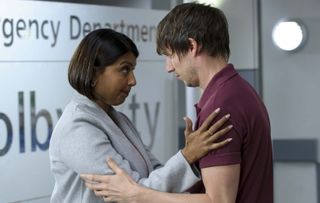 (Image credit: BBC / Alistair Heap)
Sunetra Sarker reveals why she made a dramatic comeback to Casualty tonight
Hooray for Zax! The best couple in recent Casualty history, Max and Zoe, finally got back together tonight, when Zoe returned to the ED to check on her troubled friend Dylan and discuss the divorce papers Max had posted her.
Luckily the pair realised they had both been missing each other too much to give up on their relationship, and Max jumped on a plane to follow Zoe back to the US. Ignoring the fact there was no way he could have known which flight she was getting, or booked a ticket at such short notice, it was the perfect ending for a top notch couple.
Talking to What's on TV, Sunetra Sarker admits she wouldn't have returned to the series, were it not for a promise she made to co-star Jamie Davis back in 2016.
When I left the show Jamie said to me, "You can't just leave me!" so as my parting gift to him we struck up a deal. I gave him my word that I would come back for an episode to take him out of the show whenever he decided to leave.
"So he was the one who gave me the call and said, 'I've got two kids now, it's time for me to be back at home with my family, so would you mind honouring that promise?' I was like, 'Oh yeah I forgot about that!' but of course I did it, the episode was a real treat."
Sunetra also spoke about the acid attack storyline Zoe got caught up in during her brief comeback. "I was so impressed they were covering something so relevant and current, but I didn't see it coming that Zoe would have 'acid' (it turned out to be just water) thrown in her face.
"Honestly when I read the script I thought, 'Oh my God, I'm going to have a burned face, this is what they're going to do with her!' The dramatic feeling when they threw that water on my face, even though I knew as an actor it wasn't real… the screams were real!"
Get the latest updates, reviews and unmissable series to watch and more!
Thank you for signing up to Whattowatch. You will receive a verification email shortly.
There was a problem. Please refresh the page and try again.