Christmas TV Guide: Boxing Day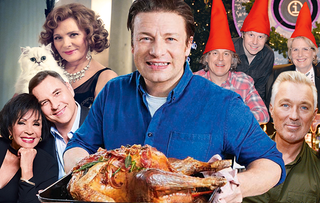 Catch up on these festive treats while you eat your turkey leftovers...
West Side Stories
Boxing Day 26 December, 5.20pm BBC2 (ex Scotland)
Viewers of a certain age won't be able to resist singing along to songs like Maria and America during this documentary about West Side Story, one of the most successful musicals ever (handily, it's on C5 today at 2.15pm).
Suzy Klein and Bruno Tonioli search out the real stories behind the show and talk to those who knew and worked with creators Leonard Bernstein, Jerome Robbins and Arthur Laurents.
Meanwhile, Stephen Sondheim, who was in his 20s when he wrote the lyrics, talks of his struggle to be taken seriously.
Revolting Rhymes
Boxing Day 26 December, 6.30pm BBC1
A twinkling jewel in the Beeb's festive line-up, this two-part animation of Roald Dahl's popular book will delight children and the young at heart.
Made by the team behind The Gruffalo and Stick Man, this takes five of Dahl's mischievous poems that are based on fairy tales and mixes them together to create a seamless story narrated by the Wolf.
Tonight, Snow White and Red Riding Hood become friends. Concludes tomorrow.
The Witness for the Prosecution
Boxing Day 26 December, 9.00pm BBC1
Whisper it, but this year's Agatha Christie adaptation may even outshine last Christmas's And Then There Were None.
The story centres on Mr Leonard Vole (Billy Howle), a barman-turned-gigolo accused of murdering Emily French (Sex and the City's Kim Cattrall, on fine form) to get his hands on her fortune. Despite the best efforts of solicitor John Mayhew (Toby Jones), the evidence stacks up against John Vole.
Will the wife of the accused, Austrian singer and actress Romaine (Andrea Riseborough, standing out even in this esteemed company), confirm her husband's alibi or add to his woes?
Concludes tomorrow.
The Entire Universe
Boxing Day 26 December, 9.30pm BBC2
It's a science lecture, folks, but not as we know it. After 40 years, Eric Idle's Rutland Weekend Television returns, inviting Professor Brian Cox to talk us through the history of the universe.
What he doesn't know is that he's been roped into a star-studded song and dance show.
Cue Noel Fielding in a pirate costume and Warwick Davis as the Big Bang, plus some out-of-this-world special guests in a chaotic cacophony of comedy, with Coxy struggling to keep a straight face in his given role as serious, sulky scientist. Super fun…
Outnumbered
Boxing Day 26 December, 10.00pm BBC1
We all know that kids grow up faster than ever these days, but it's still a shock to see how different Jake, Ben and Karen look from when we last saw them nearly three years ago!
In this welcome return for the Brockmans, Boxing Day finds them trying to carry out a very special task in honour of their beloved Grandad.
But no matter how much they've all grown up, the family friction remains as hilarious as ever, as the same brilliant and frequently off-the-wall 'discussions' are still taking place, to the exasperation of poor old mum and dad, Sue and Pete
I've worked in the UK media industry for over 18 years as a multimedia producer. I have covered all the major TV events, filming interviews and awards.
Get the latest updates, reviews and unmissable series to watch and more!
Thank you for signing up to Whattowatch. You will receive a verification email shortly.
There was a problem. Please refresh the page and try again.