Christmas TV 2017 - Stephen Tompkinson and Mark Bonnar: 'It's a side to Morecambe and Wise you never normally see'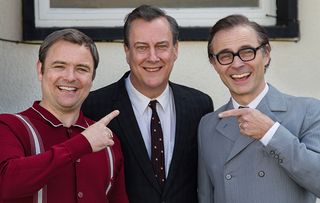 (Image credit: BBC/Objective Fiction/Bristol Fi)
Christmas TV 2017 - Actors Stephen Tompkinson and Mark Bonnar on starring in a touching BBC4 drama celebrating Morecambe and Wise writer Eddie Braben
Once upon a time there was no bigger festive tradition than Morecambe and Wise's Christmas Special, with the whole family tuning into seasonal sketches featuring a host of stars including Angela Rippon and André 'Preview' Previn.
This Christmas, a new BBC4 biopic reveals the story of 'the third man' behind the success of Britain's best-loved double act – scriptwriter Eddie Braben (played by Stephen Tompkinson), who spent 14 years bringing us sunshine through meticulously crafted gags and sketches.
The one-off drama relives Eric (played by Catastrophe star Mark Bonnar) and Ernie's (Humans' Neil Maskell) 1970s golden years, while revealing how the pressure to entertain audiences of up to 28 million took its toll on Eddie's health.
Christmas TV 2017 - Here, Stephen, 52, and Mark, 49, tell us how Eddie turned the boys into household names, and why playing their heroes has been a dream come true…
Why did you want to take part in the biopic? Are you Morecambe and Wise fans?
Stephen: "Yes, massively so! I also knew Eddie was their writer during their classic years, when they were such a big part of Christmas. I grew up during that time and remember seeing his name on the credits, so to play him has been so exciting!"
Mark: "For me, it was the chance to play Eric, but also the fact that the drama shows a side to the trio that you never normally see. It reveals the hard work and toil, certainly on Eddie's part, which went on behind the scenes."
(More festive TV interviews and features)
Tell us more about Eddie Braben…
Stephen: "Eddie started out on fruit and veg stall on a market in Liverpool, where he wrote gags on brown paper bags and tried to sell them to performers in local theatres. He went onto work with Ken Dodd for more than 10 years, until he was asked to meet Eric and Ernie by their producer John Ammonds [played by W1A's Rufus Jones] and the BBC's Head of Light Entertainment Bill Cotton [Peaky Blinders' Alexander McQueen]."
How did he make the nation fall in love with Eric and Ernie?
Stephen: "He wasn't terribly keen on them at first, but when he met them, he thought they were closer than any brothers and found them funnier when they weren't performing. He wanted to bring their intimacy into the act and the results were glorious! He came up with the flat sketches and being in bed together, plus a character for Ernie as a frustrated playwright. It felt like that was how they really lived."
How did Eddie cope with their success?
Stephen: "Being their sole writer was a tremendous pressure on Eddie. He also hated being in London and would get the sleeper train home to his wife and his rock, Deirdre [played by Liz White]. He ended up having two breakdowns, but Eric was also killing himself, yet they just pushed on through because they loved the job."
Mark, it must have been daunting taking on the role of Eric?
Mark: "It was terrifying! I felt the pressure every time I opened my mouth! I almost said no so many times because I don't look or sound anything like him. I thought I could do a passable impression, but the writer Neil Forsyth was so open and enthusiastic that I had to shove my own hang-ups to the back of my mind and plunge in."
Has the drama given you a new appreciation of the boys, and of course, Eddie?
Stephen: "The admiration and love I had for them has just expanded…"
Mark: "I always thought their material was so relaxed and off-the-cuff, but knowing what they went through to deliver such seemingly effortless works of genius earns much more respect. Some special moment of happenstance brought the three of them together and millions of people's lives were made better for it."
Christmas TV 2017 - Eric, Ernie & Me airs on Friday 29 December on BBC4 at 9pm
Get the What to Watch Newsletter
The latest updates, reviews and unmissable series to watch and more!
Senior Writer for TV Times, TV & Satellite Week, What's On TV and whattowatch.com
Rebecca has more than 20 years' experience in journalism and is now writing about all things telly-related for TV Times, TV&Satellite Week, What's On TV and whattowatch.com.
She's interviewed all sorts of big-name stars, including Al Pacino, Ewan McGregor, Tom Hardy, Winona Ryder, Benedict Cumberbatch and more. She's also been known to step in front of the camera, dressing up as a 1920s flapper to star in ITV's Mr Selfridge and co-hosting ITV News at Ten with Mark Austin – all in the line of duty!
When she's not quizzing actors, directors and producers, you'll find her bingeing US dramas and anything horror/sci-fi/zombie-themed. But her greatest love will always be Game of Thrones… just don't mention the ending!